New Transportation Option Serves County's Most Vulnerable
Listen to the story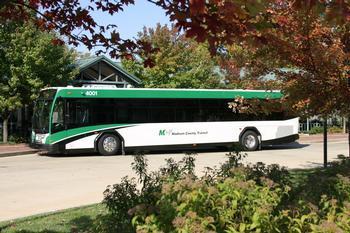 GRANITE CITY – When Chestnut Health Systems™ moved to 50 Northgate Industrial Drive in 1996, the business park where it located was little developed. Ninety-five percent of Chestnut patients drove their own vehicles. Twenty-five years later, Chestnut's patient population has grown from 2,500 to 10,000. The business park has also grown along with the amount of heavy industrial traffic.
Get The Latest News!
Don't miss our top stories and need-to-know news everyday in your inbox.
Today, most patients and clients take public transportation. Until recently, that posed a hardship, as the closest public transit stop was on Route 3. That left patients and clients with a half-mile walk to Chestnut along a very busy industrial route with no sidewalk in all kinds of weather and temperature extremes.
Beginning Monday, August 17, patients and clients can take advantage of Madison County Transit's (MCT) #2 Granite City Shuttle to and from Chestnut's Northgate Industrial Drive location. Having predictable daily transportation to Chestnut's front door from Route 3 will be a huge benefit to businesses in the area and will help to ensure patients' safety.
Article continues after sponsor message
"Some of our patients use canes, crutches, or walkers. They include the elderly and families with babies and small children. Clients had resorted to cutting through the Heitman Steel parking lot and throughway which was dangerous given the traffic," said Orville Mercer, vice president of strategy and innovation for Chestnut. "We are delighted that MCT will drop off riders at our doors, making seeing a provider more convenient and much safer for our patients."
State Senator Rachelle Crowe (D-Glen Carbon), championed the shuttle service and was instrumental in working with MCT to secure the new route. "By offering daily public transportation for residents to have access to Chestnut, whether for substance use treatment or other health services, the extension benefits the well-being of families and our community as a whole," said Crowe. "I commend the MCT organization for serving the public and making a comprehensive effort to fulfill transportation needs in Madison County."
The #2 Granite City Shuttle will service Chestnut Monday through Friday between 6:56 a.m. and 5:28 p.m. Find more information on bus times and stops at mct.org.
Chestnut Health Systems is a non-profit organization that has cared since 1973 for persons needing behavioral health services. Chestnut provides substance use disorder treatment, mental health counseling, primary health care, credit counseling, and housing and supportive services. It is a leader in substance use-related research. More at www.chestnut.org.
More like this: