New applicants invited for SIUE/U of I Summer 2018 research experience
December 19, 2017 4:39 PM
Listen to the story
EDWARDSVILLE - Undergraduate students from across the nation are invited to apply to spend a summer immersed in unique research experiences in the fields of archaeology and ecology.
Get The Latest News!
Don't miss our top stories and need-to-know news everyday in your inbox.
Southern Illinois University Edwardsville will again host 10 undergraduates, five archaeological and five ecological, during June 4-July 27, to participate in a project entitled Exploring Evidence of the Anthropocene: Archaeological and Ecological Interdisciplinary Research Experiences for First Generation Students in the Upper Mississippi River System. The Anthropocene is a proposed geological epoch in which scholars suggest current climate and environmental conditions are mostly influenced by human activity rather than natural processes.
The project is part of a three-year program funded by a $287,690 National Science Foundation (NSF) Research Experiences for Undergraduates (REU) grant awarded to SIUE and the University of Illinois.
Interested applicants can apply at siue.edu/STEM/REU with a priority deadline of Friday, Jan. 19. Participants receive a weekly stipend and free housing while in the program.
"This REU site is an opportunity for undergraduates to participate in an ongoing research program, and learn and build new skills that will set them on the path toward greater career accomplishments," said principal investigator (PI) Carol Colaninno, an assistant research professor in the SIUE Center for Science, Technology, Engineering and Mathematics (STEM) Research, Education and Outreach. "This unique opportunity gives students a truly interdisciplinary experience that is rarely seen in higher education or academia."
Colaninno closely operates the program with co-PI John Chick, PhD, director of the Great Rivers Field Station, U of I Illinois Natural History Survey. The project is a partnership among the SIUE STEM Center; the U of I Illinois Natural History Survey; the SIUE College of Arts and Sciences Department of Anthropology; and Western Illinois University.
Article continues after sponsor message
Participants will conduct field studies on SIUE's campus, at the Great Rivers Field Station in Alton, and Western Illinois University's Kibbe Life Science Research Center. Students will engage in field archaeology and fish-monitoring programs in the Mississippi and Illinois Rivers, and will learn methodologies and theoretical perspectives that bridge archaeological and ecological concepts.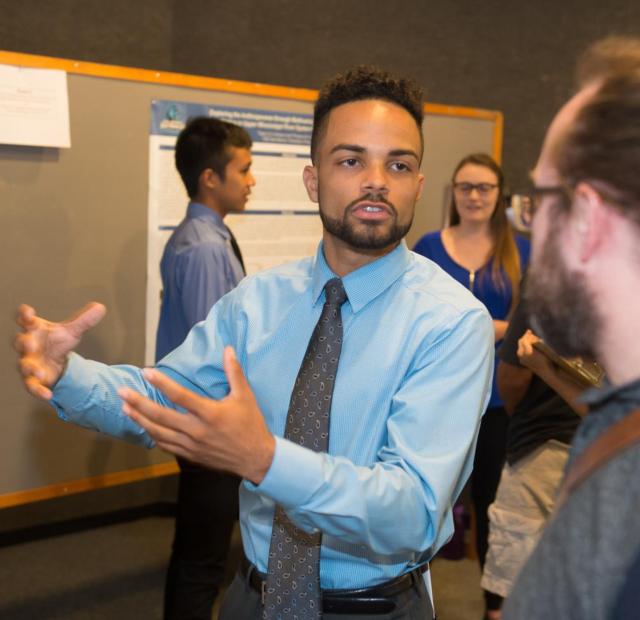 First-year program participants emphasized that the valuable hands-on experience they gained through the summer 2017 REU enhanced their knowledge and research abilities. The mentorship they received through the program motivated their interests and provided guidance on how to achieve their academic goals.
"I thought this was the perfect interdisciplinary combination, because it's important to know the past to help us move forward in the present and future," said 2017 REU participant Taesoo Jung, a senior at the University of Georgia.
"This program has definitely opened new doors for me," added 2017 REU participant Taylor Erickson, a sophomore at California State University San Marcos. "I've made connections with people from different fields, and now have friends I can call back on for advice or scholarly viewpoints. Perspectives from different academic fields always strengthen a project."
Senior personnel involved in the collaborative project include Corey Ragsdale, PhD, assistant professor and Julie Zimmermann, PhD, professor, both in the SIUE Department of Anthropology; the U of I Illinois Natural History Survey's Andrew Casper, PhD, director of the Illinois River Biological Station; and Sergiusz Czesney, PhD, director of the Lake Michigan Biological Station; and James Lamer, PhD, site manager of Western Illinois University's Kibbe Field Station.
Students involved in the program will present an original contribution to the field of studies documenting the timing and scope of the onset of Anthropocene in the Upper Mississippi River System at SIUE in July 2018, and at the Mississippi River Research Consortium being held spring 2019.
About the STEM Center
The Southern Illinois University Edwardsville Center for STEM Research, Education and Outreach comprises an independent group of researchers and educators, innovating ways to engage students and the public in science, technology, engineering and math (STEM). Within the SIUE Graduate School, the Center brings together research faculty, graduate students and practitioners to conduct education research. The Center contributes educational expertise to SIUE undergraduate classes and provides professional development for K-12 teachers. The Center boasts a significant library of equipment and resources, which are available for loan at no cost to campus and regional instructors. For more information, visit stemideas.org or contact STEM Center Director Sharon Locke at (618) 650-3065 or stemcenter@siue.edu.
About the University of Illinois, Illinois Natural History Survey
The mission of the Illinois Natural History Survey (INHS), part of the University of Illinois' Prairie Research Institute, is to investigate and document the biological resources of Illinois and other areas, and to acquire and provide natural history information that can be used to promote the common understanding, conservation and management of these resources. For more information, visit inhs.illinois.edu.
More like this: