Monday Sports Roundup: McGivney Loses In OT To Taylorville, Piasa Birds Win, East Side Wins Again
January 17, 2023 8:16 AM
January 17, 2023 10:05 AM
Listen to the story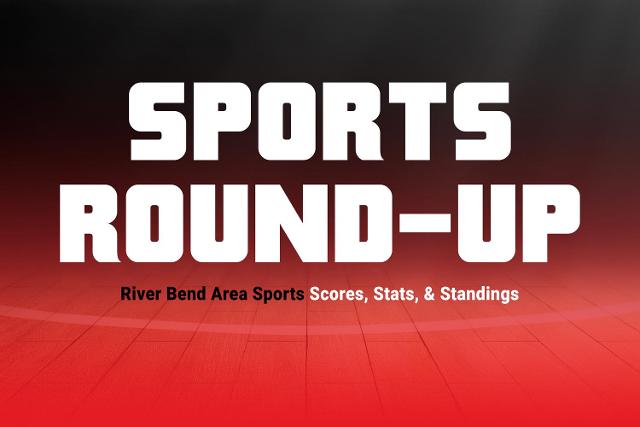 MONDAY, JANUARY 16 SPORTS ROUNDUP
Get The Latest News!
Don't miss our top stories and need-to-know news everyday in your inbox.
BOYS BASKETBALL
TAYLORVILLE 74, FATHER MCGIVNEY CATHOLIC 66 (OT)
In the opening game of Group B of the Litchfield Tournament, McGivney rallied in the second half against Taylorville before losing in overtime.
The Tornadoes led after the first quarter 18-17, then extended the lead to 33-27 at halftime, but the Griffins came back to tie the game 44-44 after three quarters, with the score remaining tied at the end of regulation 59-59. Taylorville outscored McGivney in the overtime 15-7 to take the win.
Jackson Rodgers led the Griffins with 16 points, while Noah Garner had 15 points, Jacob Huber added 14 points, Ryker Keller scored eight points and Drew Kleinheider had five points.
The Tornadoes are now 3-18, while McGivney goes to 9-8.
PIASA SOUTHWESTERN 73, MT. OLIVE 26
Southwestern led from wire-to-wire in their win over at Mt. Olive.
The Piasa Birds held leads of 25-8, 45-12 and 63-16 after the first three quarters, with the fourth quarter being tied 10-10.
Greyson Brewer led Southwestern with 13 points, Ian Brantley had 12 points, Logan Keith scored nine points, Ryan Lowis hit for eight points, Collin Robinson and Hank Bouillon each hit for seven points, Lane Gage had five points, Rocky Darr and David Watkins scored four points apiece, Parker LeMarr had three points and Ike Austin had a single point.
The Birds are now 9-10, while Mt. Olive goes to 1-15.
ST. LOUIS LUTHERAN NORTH 44, GRANITE CITY 40
In the Southern Illinois Shootout Series played at Lynx Arena at Lindenwood University-Belleville, Lutheran North got 18 points from Bryce Spiller in their win over Granite.
Trevon Bond led the Warriors with 12 points, while Mario Brown added eight points.
The Crusaders are now 11-7, while Granite saw a five-game winning streak end and are now 10-9.
EAST ST. LOUIS 63, CHAMINADE COLLEGE PREP CATHOLIC 61
In the final game of the day at the Southern Illinois Shootout, East St. Louis held off Chaminade in a very entertaining and close game.
The Flyers led 25-17 after the first quarter, then at halftime 39-32 and at the end of the third quarter 55-48, with the Red Devils coming back to outscore East Side in the fourth quarter 13-8, but the Flyers holding on to win.
Macaleab Rich led East Side with 27 points, while D'Necco Rucker added 14 points, Davis Bynum scored eight points, Demarion Brown had seven points, Antwan Robinson came up with five points and Cameron Boone had two points.
The Flyers are now, 11-4, while CCP goes to 11-3.
In other games played on Monday, Mascoutah won over Metro-East Lutheran in the first round of the Nashville tournament 67-27, Staunton won over Carlinville in the Bunker Hill tournament 58-40, while at Okawville, Trenton Wesclin defeated Roxana 52-34, the host Minutemen got past Gillespie 74-69 and in the opener of the Southern Illinois Shootout, East St. Louis SIUE Charter defeated Hancock, Mo. 66-46.
GIRLS BASKETBALL
ALTON 58, TEUTOPOLIS 56
[ALSO: 21 Straight: Blakeny Leads Lady Redbirds' Comeback Against Teutopolis In Highland Tournament]
CALHOUN-BRUSSELS 56, MARQUETTE CATHOLIC 38
[ALSO: Zipprich Scores 28 As Calhoun's Big Second Half Puts Them Past The Explorers]
GILLESPIE 52, BUNKER HILL 29
In the opening day of the Bunker Hill Invitational tournament at Hlafka Hall, Gillespie had little trouble in winning over the host Minutemaids.
The Miners held quarter leads of 14-6, 29-14 and 38-16 after the first three periods, then outscored Bunker Hill in the fourth quarter 14-13 to take the win.
Taytem Brooks led the Minutemaids with 10 points, while Abby Collins had seven points, both Maya Hentling and Julianna Scroggins each scored four points and Jadalyn Black and Miley Walkington both scored two points apiece.
The Miners are now 12-10 on the year, while Bunker Hill goes to 0-9.
WATERLOO 47, TRIAD 46 (OT)
In the consolation quarterfinals of the 36th Highland Invitational, Waterloo got past Triad in a very close overtime thriller to advance to the consolation semifinals.
The Knights led after the first quarter 13-11, then at halftime 20-17, with the Bulldogs coming back to take a 31-30 lead after three quarters, with Triad tying the game 40-40 after regulation. Waterloo outscored the Knights in the overtime 7-6 to take the narrow win.
Article continues after sponsor message
Savannah Hildebrand led Triad with 16 points, while Delaney Hess added 12 points, Makenna Witham had 10 points, Sami Hartoin scored four points, Erica Boyce hit for three points and Andie Green had two points.
The Bulldogs are now 14-7, while the Knights fall to 1-16.
COLLINSVILLE 45, BELLEVILLE EAST 36
In the second consolation quarterfinal at Highland, Collinsville used a big middle two quarters to win over Belleville East.
The Kahoks held an 8-6 lead after one quarter, then went out to a 24-15 halftime lead, which became 40-22 at three quarter time, with the Lancers outscoring Collinsville in the fourth quarter 14-5.
Ella Guerrero had her best game of the season, leading the Kahoks with 20 points, while Megan Janson added 12 points, Jenna Scheller came up with seven points, Katie Bardwell scored four points and Talesha Gilmore had three points.
Collinsville broke a five-game losing skid and are now 11-11, while East is now 7-11.
CARLINVILLE 37, PIASA SOUTHWESTERN 28
At the Bunker Hill Invitational, Carlinville went out to the lead and never relinquished in in their win over Southwestern.
The Cavaliers led from start to finish, with leads of 16-7, 23-13 and 31-15 after the first three quarters, with the Piasa Birds outscoring Carlinville in the fourth quarter 13-6.
Kaitlyn Reels led the Cavies with 11 points, while Isabella Tiburzi hit for seven points, Hannah Gibson and Maddy Murphy each scored six points, Braley Wiser had five points and Jordyn Loveless scored two points.
Gracie Darr, MaCaylin Day and Vivian Zurheide all led Southwestern with eight points each, with Josie Hagen scoring four points.
Carlinville is now 10-10, while the Birds go to 1-12.
COLUMBIA 53, GRANITE CITY 37
Visiting Columbia trailed Granite City after the first quarter, then outscored the Warriors 45-24 in the final three periods to win at Granite City Memorial Gym.
Granite led after the first quarter 13-8, but the Eagles came back to take a 25-22 lead at halftime, went out to a 38-29 advantage after the third quarter, then outscored the Warriors 15-8 in the fourth tot take the win.
Emily Sykes led Granite City with 13 points, while Melashia Bennett scored nine points, Kaylyn Wiley hit for seven points, Sophia Mangi and Itaijja Miller-Brown each scored three points and Alivia Vaughn had two points.
Columbia is now 15-7, while the Warriors go to 4-13.
MATER DEI 43, HIGHLAND 27
MSCHA HOCKEY
THURSDAY'S RESULT
EDWARDSVILLE 4, WEBSTER GROVES 3
Luke Thomlinson scored twice, the game winner coming with 4:09 left in the game, to give Edwardsville the win over Webster Groves at the RP Lumber Center Jan. 12.
Konnor Goclan started the scoring after only 43 seconds of the opening period, assisted by Thomlinson, and after the Statesmen tied the game, Thomlinson scored on the power play from Goclan and Fred Bramstedt at 11:32 and Goclan scored his second goal of the game, assisted by Branstedt, at 13:25 to give the Tigers a 3-1 lead after the first period.
Webster tied it up in the second at 3-3, setting up Thomlinson's winner, assisted by Bramstedt, at 10:51 of the third to give Edwardsville the win.
The Tigers outshot the Statesmen 34-23, with Kai Vetter making 20 saves in goal.
Previously, in a game played Jan.5 at RP Lumber Center, Thomlinson scored the only goal, from Bramstedt, at 8:08 of the second period in a 9-1 loss to St. Louis University Highland
The Tigers are now 3-9-4 and host Eureka Thursday night in an 8:30 p.m. face-off.
MVCHA HOCKEY
In recent games in the Mississippi Valley Club Hockey Association, on Jan. 2, East Alton-Wood River won over Edwardsville East 2-1 and on Jan. 5, the Tigers and Bethalto skated to a 5-5 tie.
In games played on Jan. 9, Triad defeated Alton 6-4, Freeburg/Waterloo won over Bethalto 3-0, Collinsville shut out St. John Vianney Catholic 3-0 and O'Fallon got past Granite City 3-1.
In the games of Jan. 10, Vianney and Alton tied 3-3, O'Fallon defeated EAWR 8-1 and Belleville got past Triad 3-1. In games played Jan. 12, Granite City won over EAWR 7-1, Belleville defeated Edwardsville East 6-0 and Triad won over Highland 13-1.
GIRLS BOWLING
COLLINSVILLE 39, ALTON 1
Rebekah Von Plinsky led Alton with a 452 series, including a high game of 180, as Collinsville took the win over the Redbirds at Camelot Bowl in Collinsville.
Clara Velloff bowled a 417 set for Alton, with a high game of 171, and Ava Taulbee tossed a 334 series, with a high game of 118.
Livia Montgomery led the Kahoks with a 599 series, having a high game of 243, while Laila Jaoko tossed a 587 series, with a high game of 213, and Sophia Tottleben threw a 557 series, having a high game of 192.
In the junior varsity meet, Savannah Spinks had the high series for Alton with a 284, with a high game of 114, in Alton's 7-0 loss to Collinsville. Joanne Palmes led the Kahoks with a 609 series, with a high game of 212.
If you have an item for the Sports Roundup, please E-mail the results and statistics to Dan Brannan at dbrannan@riverbender.com, or you may text the results to (618) 623-5930, and it will be used in that day's Riverbender.com/EdGlenToday.com Sports Roundup. We will accept both high school and junior high school results for the Sports Roundup.
More like this: