| updated October 12 2022 4:55 PM
Listen to this article
GLEN CARBON - The Father McGivney Catholic boys and girls cross country teams won the inaugural Gateway Metro Conference meets, ran Tuesday at McGivney High, with Max Weber of Metro-East Lutheran winning the boys race and the Griffins' Elana Rybak and Kaitlyn Hatley going one-two in the girls race.
McGivney won the boys race with 36 points, while the Knights were second with 51 points and Centralia Christ Our Rock Lutheran came in third with 51 points. Marquette Catholic and Maryville Christian also had runners competing, but didn't record a team score.
Get The Latest News!
Don't miss our top stories and need-to-know news everyday in your inbox.
Weber won the race with a time of 16:42.0, while Elijah Gregory of the Silver Stallions was second at 17:09.2, Carter Pryor of the Knights came in third with a time of 17:35.4, the Griffins' Liam Schmidt finished fourth at 17:39.9 and rounding out the top five was Noah Jacob of the Lions, who was in at 17:59.0.
Going along with Schmidt's time, the Griffins saw Liam Boeving in at 18:05.6, Connor Schmidt was in at 18:10.2, Riley Strack had a time of 18:11.1, Evan Rybak's time was 19:05.2 and Aiden Schmidt came home at 19:17.5.
Along with Weber and Pryor, Metro-East had Grayson Wyatt in at 18:03.0, Gavin Rodgers had a time of 19:15.3, J.J. Lostutter was in at 19:52.6, Adam Brokemeier had a time of 22:13.5, Trevor Duty was in at 25:50.5 and Henry Schumacher came home at 29:52.2.
Article continues after sponsor message
Jacob was the only runner for Maryville, while Marquette saw Daniel Kline in at 19:00.2, Braden Nash had a time of 20:26.5 and Josh Kreitner was in at 21:13.2.
The girls race was also won by the Griffins, who had 23 points, while the Explorers had 46 points and the Knights scored 54 points. COR and Maryville also had runners in the field, but not enough for a team score.
Rybak won the race with a time of 18:02.7, with Hatley second at 18:25.3, Sarah McKowen of the Silver Stallions was third at 20:07.7, McGivney's Jane Cummins was fourth at 20:31.1 and rounding out the top five was Rylee Brammeier of COR at 21:07.2.
To go along with Rybak, Hatley and Cummins, the Griffins saw Alyssa Terhaar come in at 21:39.0, Sofia Luna had a time of 24:57.7 and Isabella Harris in at 25:43.1. The Explorers were led by Kailey Vickrey, who had a time of 22:11.3, with Paige Rister in at 22:51.6, Katie Johnson had a time of 23:16.2, Hudson McCowan came in at 23:56.6, Clair Antrainer's time was 23:59.9, Ava Certa came in at 26:30.2, Cassidy Eccles had a time of 26:43.6 and Isabella Downey had a time of 29:18.7.
The Knights' top runner was Izzy McLeod, who had a time of 21:49.7, with Mireia Barcelo' Machado coming in at 22:38.3, Alison Waller's time was 23:44.1, Thea Ball came in at 25:32.8 and Rihannon Lazella was clocked in 31:51.4. Leading the way for the Lions was Isabel Jacob, who had a time of 23:08.8, while Mia Donald's time was 23:27.8.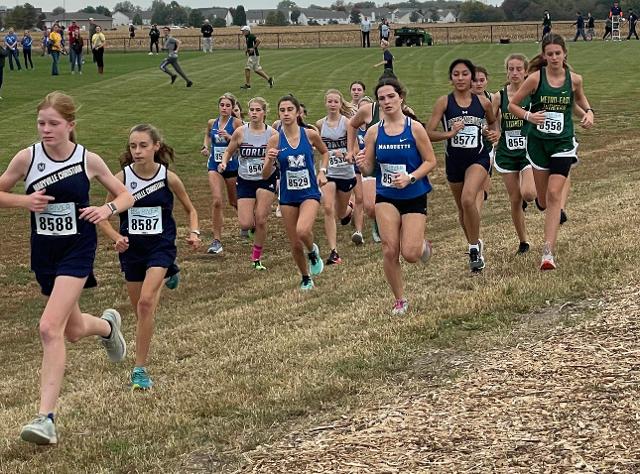 More like this: