Main draws begin in Edwardsville Futures
Listen to the story
Get The Latest News!
Don't miss our top stories and need-to-know news everyday in your inbox.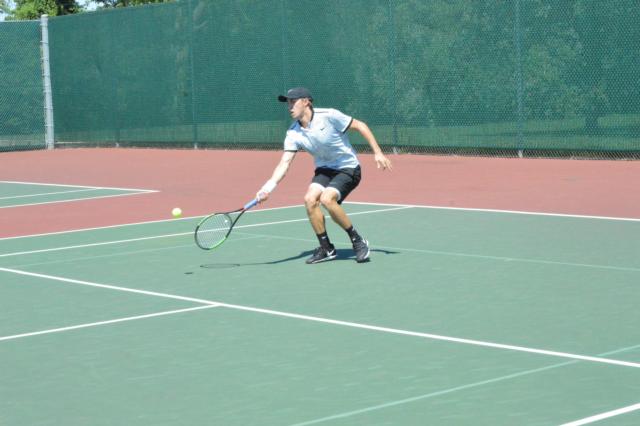 EDWARDSVILLE – Opening day of the main draws of the $25,000 USTA Pro Circuit Edwardsville Futures tennis tournament presented by the EGHM Foundation had plenty of action a couple of surprise results Tuesday as the run to Sunday's singles final and Friday evening's doubles final began at the Edwardsville High School Tennis Center.
Play was conducted under sunny skies and temperatures in the low 80s much of the day.
One of Tuesday's singles winners was Chris Haworth, who won his way into the main draw when he won last week's Pro Wildcard Challenge tournament; he advanced to the second round with a 6-2, 6-3 win over Aleksander Kovacevic of New York who plays in college for the University of Illinois.
"I thought I played a really good match all the way through," Haworth, who is from Oklahoma City and played for Oklahoma State, said. "I didn't make too many errors; I knew if I got nine- or 10-ball rallies, I could win most of those, so I tried to do that all throughout the match.
"I know the next round is going to be pretty tough; I think he's (South African Nicolaas Scholtz, who faces Israel's Or Ram-Harel today in the first round) got a pretty good ranking – I just take every match the same and prepare the same and play my game."
Of Kovacevic, Haworth said "he played well. As I said, I was trying to get into long rallies and that might not be the way he likes to play, but he played well; it was a good match."
Today was not my best day," Kovacevic said. "I was out there and was not feeling the best; these last four weeks have been tough (on the Illinois Swing of the Futures tour) and it probably took a toll on me. I've played all four of them and it's been tough."
Aron Hiltzik also advanced with a 4-6, 6-3, 6-3 win over Cameron Silverman in their first-round match; Hiltzik will play the winner of today's match between Sweden's Gustav Hansson and Brazil's Gabriel Friedrich in the second round. "It was a really tough one," Hiltzik said. "It's been a pretty tough summer; I think I lost six straight three-set matches – it's been crazy and I just battled through.
"I've been working hard and got the win."
Hiltzik made a few adjustments in his strategy to get the win. "I changed my tactics a little bit," Hiltzik said. "I changed my grip actually; I was getting a bit too sweaty for my grip so I went to a little bit more of a drier grip; that helped center me a bit and freed my mind, so I'm glad I just fought hard."
In the doubles competition, twin brothers Hunter and Yates Johnson advanced to today's quarterfinals against Ezekiel Clark and Kovacevic with a 6-1, 6-3 win over American Chad Rhoden and Scholtz. "It was good," Hunter Johnson said. "It was my first tournament back after a foot injury; I was out for three-and-a-half months,so this is my first tournament back; it was good to get the win today – just getting back into it was good.
"I've been trying to hit without moving the whole time I was injured; he (Yates) actually won a tournament with one of our friends while I was out, in Champaign two weeks ago; I feel I have to prove myself a little bit and get back in the rhythm of things with my twin brother."
"It was good," Yates Johnson said. "It was kind of weird not having my brother playing with me for awhile, but it's good to be back out there with him and get a good first-round match win, build a little confidence going into the second round."
Article continues after sponsor message
Play begins today at 9:30 a.m. with the remaining first-round singles matches and the doubles quarterfinals on the card; the doubles final will be played at 5:30 p.m. Friday. For updated information on the tournament, visit www.edwardsvillefutures.com
USTA PRO CIRCUIT EDWARDSVILLE FUTURES
PRESENTED BY THE EGHM FOUNDATION
TUESDAY'S RESULTS
SINGLES – FIRST ROUND
Chris Haworth (USA) def. Aleksander Kovacevic (USA) 6-2, 6-3; Ricardo Rodriguez (Venezuela) def. Santiago Fa Rodriguez Taverna (Argentina) 6-4, 6-7 (5-7), 7-5; Hunter Callahan (USA) def. Eric Johnson (USA) 6-4, 6-2; Alex Rybakov (USA) def. Nathaniel Lemmons (USA) 6-4, 6-3; Aron Hilzik (USA) def. Cameron Silverman (USA) 4-6, 6-3, 6-3; Keegan Smith (USA) def. Evan Zhu (USA) 3-6, 6-1, 6-2
DOUBLES – FIRST ROUND
Robert Galloway/Alex Lawson (USA) def. Jonathan Binding (Great Britian)/Cameron Silverman (USA) 6-3, 7-5; Hunter Johnson/Yates Johnson (USA) def. Chad Rhoden (USA)/Nicholas Scholtz (South Africa) 6-1, 6-3; Eziekiel Clark/Aleksander Kovacevic (USA) def. Jack Murray/Sam Shropshire (USA) 2-6, 7-5, 10-6; Hunter Callahan (USA)/Gustav Hansson (Sweden) def. Aron Hiltzik/Jeffrey Schorsch (USA) 6-2, 6-4; Nathaniel Lemmons/Keegan Smith (USA) def. Kaillim Stewart (USA)/Mandeep Yadav (India) 6-0, 6-1; Aziz Dougas (Tunisia)/Guy Orly Iradukunda (Burundi) def. Edward Bourchier/Harry Bourchier (Australia) 6-3, 3-6, 10-7; Farris Fathi Gosea (Great Britian)/Ante Pavic (Croatia) def. Ricardo Rodriguez (Venezuela)/Santiago Fa Rodriguez Taverna (Arginina) 6-3, 6-4
WEDNESDAY'S ORDER OF PLAY
9:30 a.m.: Borna Gojo (Croatia) vs. Ante Pavic (Croatia), Court 2; Guy Orly Iradukunda (Burundi) vs. Harry Bourchier (Australia), Court 3; Aziz Dougaz (Tunisia) vs. Ulises Blanch (USA), Court 5; Robert Galloway (USA) vs. Joshua Peck (Canada), Court 7
NOT BEFORE 10:30 a.m.: Nicholas Scholtz (South Africa) vs. Or Ram-Harel (Israel), Court 2; Ezikiel Clark (USA) vs. Jeffrey Schorsch (USA), Court 3; Gustav Hansson (Sweden) vs. Gabriel Friedrich (Brazil), Court 5; Hunter Johnson (USA) vs. Kevin King (USA), Court 7
NOT BEFORE 1 p.m.: Liam Caruana (Italy) vs. Edward Bourchier (Australia), Court TBA; Genaro Alberto Olivieri (Argentina) vs. Simon Friis Soendergaard (Denmark), Court TBA
NOT BEFORE 2 p.m.: Aziz Dougaz (Tunisia)/Guy Orly Iradukunda (Burundi) vs Farris Fathi Gosea(Great Britian)/Ante Pavic (Croatia), Court TBA
NOT BEFORE 3 p.m.: Hunter Callahan (USA)/Gustav Hansson (Sweden) vs. Nathaniel Lammons/Keegan Smith (USA), Court TBA (after rest period); Hunter Johnson/Yates Johnson (USA) vs. Ezekiel Clark/Aleksander Kovacevic, Court TBA (after rest period); Robert Galloway/Alex Lawson (USA) vs. Charlie Emhardt/Alfredo Perez (USA), Court TBA (after rest period)
More like this: