Illinois State Police Provide Security For 2022 Du Quoin State Fair
ISP Public Information Office
Listen to the story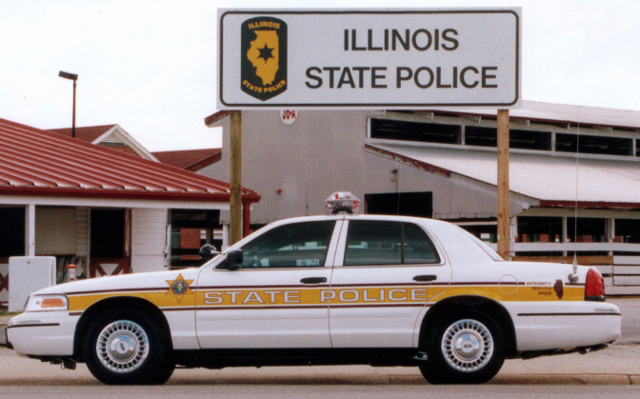 DU QUOIN, IL. - Illinois State Police (ISP) is looking forward to welcoming fairgoers back to the Du Quoin State Fair in 2022. The fair opens Friday, August 26th, and continues through Monday, September 5th.
Get The Latest News!
Don't miss our top stories and need-to-know news everyday in your inbox.
"As the ISP celebrates 100 years of serving the citizens of Illinois, we stand ready to serve all who come out to the fair this year to enjoy all it has to offer," said ISP District 13 Commander Captain Joshua Anderton. "The ISP will have plenty of Troopers on site to ensure a safe and enjoyable Du Quoin State Fair," he added.
Troopers will be assigned to the State Fair to provide public safety with walking patrols, gate security, monitored surveillance cameras, and undercover officers.
The Du Quoin Fire Department and area ambulance services are also prepared for emergencies during the event and the First Aid Station is located on the north end of the Grandstand. Fairgoers are reminded to stay hydrated as the Du Quoin area is expected to have moderate heat and high humidity throughout the fair.
The ISP Safety Education Tent will be located on Midway Drive across from the Second Heat Building. Parents/caregivers are encouraged to stop there on the way into the fairgrounds and obtain a free armband for their small children. Should they become separated from their kids, this will enable Troopers to reunite them quickly with their caregivers. Also, take a picture of your child as you enter the fairgrounds, so you have a current picture with the outfit and hairstyle they have that day. This will help first responders know exactly what your child is wearing, and they can be identified and located quickly.
Article continues after sponsor message
Firearms Service Bureau (FSB) will have staff on hand in two locations to assist fairgoers with FOID/CCL.
FSB will have staff in the Safety Education Tent daily until 8:00 p.m. for questions about FOID/CCL.
FSB will have staff available at ISP District 13 headquarters across from the fairgrounds on US 51 to assist with the application process. Hours will be Monday, August 29 through Friday, September 2 from 2:00 p.m. to 8:00 p.m.
If you wish for FSB to assist you, please have your email address, driver's license or state ID, and FOID card if applicable to assist in the process.
The ISP has several employment opportunities for both civilian positions and Trooper positions. Please visit https://illinois.jobs2web.com/ for civilian employment opportunities. Please visit www.illinoistrooper.com to review the pre-employment requirements, and selection process and complete the application.
Fair attendees are reminded, that under the Firearm Concealed Carry Act, Illinois law prohibits concealed carry license holders from possessing a firearm on any Illinois State Fairgrounds property including the parking lots. Violators will be subject to arrest and fines by the Firearms Concealed Carry Act. For additional information please read the Act from the Illinois General Assembly's website: http://ilga.gov/legislation/ilcs/ilcs3.asp?ActID=3497&ChapterID=39 or visit the Firearm's tab of the ISP's home page located at https://isp.illinois.gov/Foid for the FAQ section.
Additionally, we want to remind attendees of the Unlawful Use of Weapons statutes concerning the possession of illegal weapons on Du Quoin State Fairground's property. A complete list of prohibited items can be found on the Illinois General Assembly's website:
http://ilga.gov/legislation/ilcs/ilcs4.asp?DocName=072000050HArt%2E+24&ActID=1876&ChapterID=53&SeqStart=68600000&SeqEnd=72000000
While we do not anticipate any issues, we are prepared and want to encourage the public to come and safely enjoy all the fair has to offer! Fairgoers are also asked to do their part in making this a successful family-friendly event for everyone attending. If they should see something out of the ordinary, they are encouraged to report it to the nearest Trooper on the grounds, by calling the Illinois State Police at 618-542-2171, or if it is an emergency, call 911.
More like this: