Host Shells Win Group A, Calhoun Takes Group B As Semifinal Parings Are Determined In Roxana Volleyball Invitational
August 23, 2023 6:44 AM
August 25, 2023 10:47 AM
Listen to the story
ROXANA - The host Roxana High girls volleyball team swept all three of their matches in Group A, while Hardin Calhoun swept their matches in Group B on the second day of the Roxana Volleyball Invitational, which was played on Tuesday at Larry Milazzo Memorial Gym, the Roxana High auxiliary gym and the Roxana Junior High School gym.
Get The Latest News!
Don't miss our top stories and need-to-know news everyday in your inbox.
The results of Tuesday's matches determined the pairings of the semifinals of the tournament, which will be played on Saturday, along with consolation and final matches on four levels.
In Group A, in the first rotation, the Shells defeated Auburn 25-23, 25-22, while Piasa Southwestern won over Dupo 23-25, 25-5, 15-13. In the second rotation, Roxana won over the Piasa Birds 25-11, 25-11 and the Trojans won over the Tigers 25-23, 25-20. In the final rotation of the group, Auburn defeated Southwestern 23-25, 25-19, 15-12, while Roxana won over Dupo 25-9, 25-18.
In the opening rotation of matches of Group B, the Warriors won over Marquette Catholic 25-14, 25-12 and Civic Memorial defeated Mt. Olive 25-17, 25-19. In the second rotation, the Eagles won over the Explorers 25-22, 23-25, 15-9. The Warriors then won over Mt. Olive 25-5, 25-10. In the third and final rotation, the Explorers won over the Wildcats 19-25, 25-4, 15-6 and Calhoun defeated CM 25-20, 25-11.
In their three combined matches for the Explorers, Makaila Irby received 40 serves and came up with 31 digs, while Lily Covert served up 15 points and five aces, Adira Bunn had nine kills, Kendall Meisenheimer came up with eight kills, Taelor Williams had eight blocks, Rose Brangenberg had 16 assists and Arista Bunn had 15 assists.
In the final group standings, Roxana won Group A with a 3-0 record, while Auburn went 2-1, Southwestern was 1-2 and Dupo ended 0-3. In Group B, Calhoun won with a 3-0 record, CM ended up 2-1, Marquette was 1-2 and Mt. Olive was 0-3. Carrollton won Group C with a 3-0 mark, with Father McGivney Catholic ended 2-1, Greenville Northwestern had a 1-2 record and Gillespie went 0-3. In Group D, Valmeyer ended up 3-0 to win the group, with East Alton-Wood River 2-1, Jersey ended up 1-2 and Granite City wound up 0-3.
Article continues after sponsor message
The semifinals and final of all four levels will be played on Saturday morning and afternoon. In the fourth place semifinals, Dupo meets Granite City at 9 a.m. and Mt. Olive takes on Gillespie at 10 a.m., both played at Roxana Junior High, with the losers playing for 15th place at 11 a.m. and the winners playing at 12 noon in the auxiliary gym in the 13th place match.
In the third-place semifinals, Southwestern plays Jersey at 9 a.m. at Larry Milazzo Gym, while Marquette meets Northwestern in the auxiliary gym, also at 9 a.m. The losers play at 10 a.m. for 11th place in the auxiliary gym, while the winners meet in the ninth place match at Milazzo Gym, also at 10 a.m.
The second-place semifinals pit Auburn playing against EAWR at 11 a.m., while CM meets McGivney at 12 noon, both matches being played at Roxana Junior High, with the seventh-place match between the two losers playing at 1 p.m. and the winners playing for fifth place at 2 p.m., both again at Roxana Junior High.
The championship semifinals between the first-place teams will have Roxana meeting Valmeyer at 11 a.m. and Calhoun playing Carrollton at 12 noon at Milazzo Gym. The third place match will be played at 1 p.m. and the final will be played at 2 p.m., also at Milazzo Gym.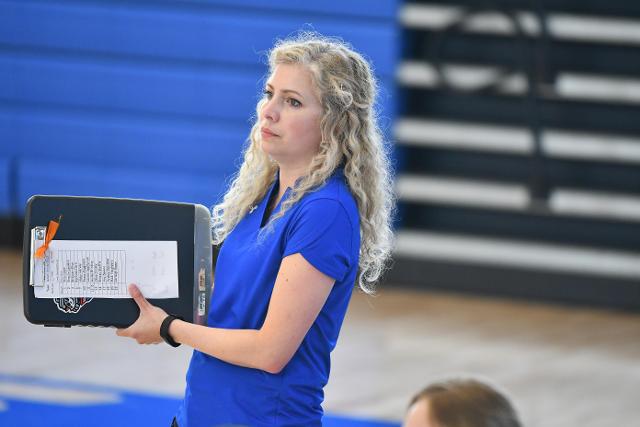 More like this: