Groundbreaking set for Thursday for Alton's new all-inclusive park
April 26, 2017 1:06 PM
April 26, 2017 1:51 PM
Listen to the story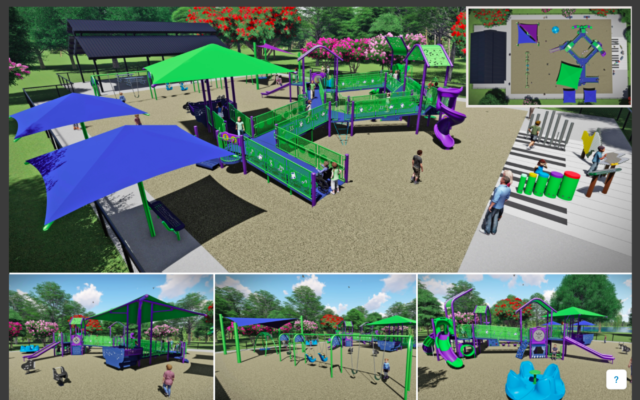 ALTON - A groundbreaking is set for 2 p.m. on Thursday for the new $300,000 all-inclusive playground in Gordon Moore Park.
The groundbreaking will be located at the entrance to Gordon Moore Park. A $125,000 matching playground grant was awarded to the Alton Parks and Recreation Department through the Illinois Park and Recreation Association (IPRA), Playcore, and their affiliates GameTime and Cunningham Recreation. Phillips 66 also partnered with Parks and Recreation by donating $125,000 toward the new playground project.
Get The Latest News!
Don't miss our top stories and need-to-know news everyday in your inbox.
The custom, one-of-a-kind playground will be universally accessible and inclusive for children of all abilities.
"We are truly lucky to have such a wonderful opportunity placed in front of us with the donation from Phillips 66 and the grant from IPRA," said Alton Mayor Brant Walker.
Phillips 66 will attend the groundbreaking and speak on the playground that will allow children of all abilities to use.
Construction of the playground project will begin shortly after the groundbreaking. The Grand opening is scheduled to take place in approximately four to six weeks.
Article continues after sponsor message
"All members of our community will get access to some of the newest, cutting edge all-inclusive playground equipment in the market," Parks and Recreation Director Michael Haynes said.
Bob Barnhart, Alton Public Works Director, said it has been one of Mayor Walker's directives to improve area parks and this is another example of some of that hard work.
"We began about a year ago with part of a comprehensive plan to improve parks and we pursued grants for a brand-new entrance and that led to the Phillips 66 and Illinois Park and Rec donation for the all-inclusive play area."
Barnhart said donations are welcomed for the all-inclusive playground and also the other park projects.
"It is a fun time to see a lot of improvements and see the fruits of the investments and grants come forward," Barnett said. "These grants and improvements are making the community as a whole very excited to see us properly restore our green spaces."
Barnett encouraged people to go to the Alton Parks and Recreation website if they wished to inquire about donations or call Liberty Bank at (618) 462-7000.
More like this: