Granite City Business Summit Talks Tax Reform and Economic Development
October 26, 2023 1:47 PM
October 26, 2023 3:22 PM
Listen to the story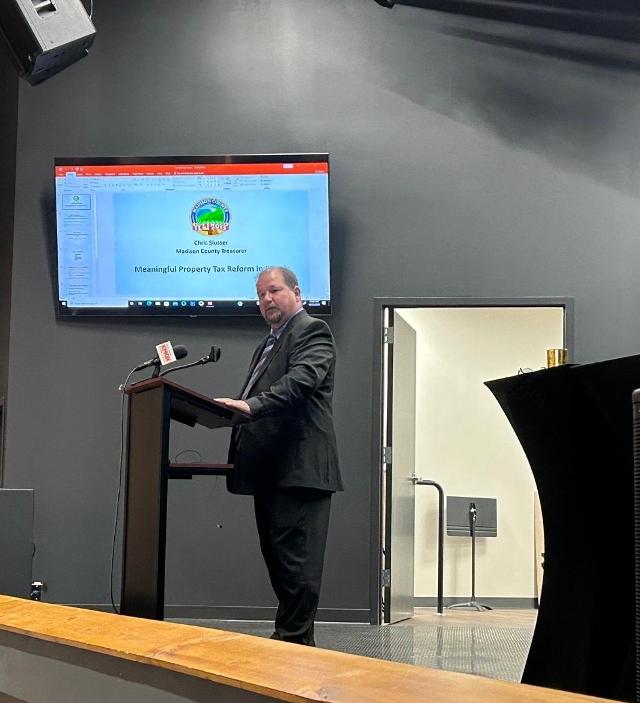 GRANITE CITY - Granite City hosted a business summit for business owners to learn about property tax reform and economic development in Madison County.
Get The Latest News!
Don't miss our top stories and need-to-know news everyday in your inbox.
On Wednesday, Oct. 25, 2023, owners and community leaders listened to speeches by Granite City Mayor Michael Parkinson, Madison County Treasurer Chris Slusser and Granite City Economic Development Director Cathy Hamilton.
"Part of economic development is retaining what you have," Parkinson said. "It's leadership working together and working for you."
Slusser spoke about tax reform and noted that Illinois has the second highest real estate tax in the country. The Property Tax Extension Limitation Law (PTELL) has been one proposed solution. PTELL is an optional law in IL counties that would limit tax increases. If the county hits the debt ceiling, PTELL also requires them to put out a referendum to voters about additional borrowing before any decisions are made.
Slusser has researched PTELL for several years, and he noted that while it "sounds pretty good" at first, it has several "loopholes." PTELL does not cap real estate taxes, and it doesn't "eliminate all backdoor referendums," he said. The tax district can raise their debt ceiling and borrow up to that amount without putting it on the ballot. According to Slusser's research, PTELL also results in a 10–18% tax increase on real estate taxes for homeowners in the first year.
In July 2023, the Madison County Board rejected a referendum that would have allowed voters to decide whether or not to implement PTELL in the county. Slusser believes that Illinois should consider the "Indiana Model" instead. In Indiana, they raised the state sales tax by 1%, and then the state took on school operating costs and local police and fire pensions. Slusser noted that the majority of tax dollars go toward schools and pensions for firefighters and police officers.
"Schools are well-funded in the end. They're no longer the bad guys on your property tax bill," Slusser said. "And the cities and villages are no longer crushed by their pensions. They're getting help from the state and people can afford to stay in their homes."
Article continues after sponsor message
Slusser said he is encouraging legislators to consider property tax reform that is similar to what Indiana did. He noted that this would make Illinois more competitive and encourage more residents and businesses to move to the state.
Hamilton echoed a few of these points during her speech about economic development in Granite City. She noted that the Parkinson administration has prompted a "cultural change" that prioritizes new ways of thinking and doing in City Hall. This includes the city's economic development team, which makes decisions by considering the role Granite City plays in the entire Metro East area.
"The first thing is understanding the commercial real estate market in your community and regionally," Hamilton said. "[Most people] have an understanding of what their little bubble is, but having a broader perspective helps you be a better economic developer."
Hamilton recounted a meeting she had with Lowe's representatives when the company was considering whether to open a store in Granite City. Companies usually push for tax breaks as incentives to open a new branch, but Hamilton's research had revealed that there weren't other buildings or markets in nearby counties that would work for a Lowe's store. Additionally, Granite City had an advantage because of the transportation along I-270. This information made her a better negotiator.
"I understood the leverage," she explained. "The sign of a strong market is no incentives...I understood my place in the market and the value of the buildings that I have to negotiate. I didn't have to give anything away, and we didn't."
Hamilton has also helped the city reassess their tax increment financing, or TIF, to find better uses for that money and encourage growth. She said this has helped to revitalize the downtown area.
In the past few years, the city government has prioritized the cleanup of empty buildings so they can bring in more businesses. Not only will this encourage companies to move to the area, but it will also boost jobs and provide economic growth throughout the county.
"Nothing matters if the community is not financially stable enough to provide the services necessary for a healthy business and residential community," Hamilton said. "There is more opportunity and good news on the horizon for Granite City than what I've seen in a lot of different markets."
More like this: