Governor Pritzker And State Fire Marshal Rivera Honor Illinois Firefighters For Their Heroic Efforts
Listen to the story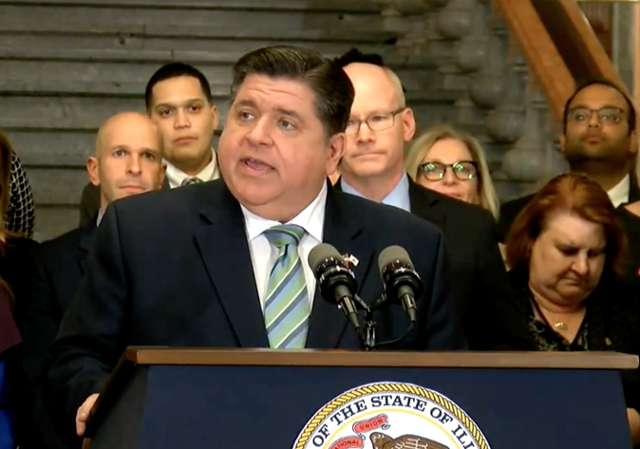 SPRINGFIELD - Governor JB Pritzker and State Fire Marshal James A. Rivera joined firefighters today to honor and remember fallen firefighters and recognize those who went above and beyond their duties at the 30th Annual Fallen Firefighter Memorial and Medal of Honor Ceremony.
Get The Latest News!
Don't miss our top stories and need-to-know news everyday in your inbox.
"From the July 4th Highland Park massacre to intractable lithium-ion battery fires to last month's devastating tornadoes, our firefighters respond to our most daunting emergencies with resolve and selflessness—mitigating disaster, reuniting families, and saving countless lives, while putting themselves in harm's way," said Governor JB Pritzker. "Congratulations to our Firefighter Excellence Award, Firefighter Excellence 'Unit Citation' Award, State Fire Marshal Life Safety Award, Medal of Honor, and Medal of Valor awardees. On behalf of the State of Illinois, thank you for your service—we couldn't be more grateful."
"Firefighters serve their communities with pride, honor and loyalty and share a deep bond with their brothers and sisters they serve next to. This memorial stands as a reminder that we shall never forget those who made the ultimate sacrifice doing what they loved while selflessly helping those in need," said Illinois State Fire Marshal James A. Rivera. "Today, we honored those true heroes while paying respect and gratitude to their service and to their families."
"Our members took an oath and swore to protect the citizens and property of their respective communities. Day in and day out we respond to countless emergencies across our state. Today we honored those who went above and beyond the call of duty. We also honor those who sacrificed their life in service to others. We will never forget them, their families and their selfless devotion to duty," said Chuck Sullivan, President of Associated Fire Fighter of Illinois.
Six firefighters were awarded the Medal of Honor. This is the highest award given by the State of Illinois to a firefighter for an act of outstanding bravery or heroism, by which the firefighter has demonstrated in great degree the characteristics of selflessness and personal courage above and beyond the call of duty, under adverse conditions, with the possibility of extreme personal risk. Recipients include:
Engineer/Driver Ryan Mahoney, Belleville Fire Department
Probationary Firefighter Alexander Kuhl, Belleville Fire Department
Firefighter/Paramedic Kyle Haemker, Bradley Fire Department
Firefighter Jason Warner, Collinsville Fire Department
Firefighter/EMT Juan Gonzalez, Chicago Fire Department
Firefighter/Paramedic Matt Mullins, Plainfield Fire Protection District
Article continues after sponsor message
Twenty-three firefighters were honored with the Medal of Valor award. The award is given by the State of Illinois to a firefighter for an act of heroism or bravery that clearly demonstrated courage and dedication in the face of danger while in the performance of duty. Recipients include:
Engineer John Eachus, Belleville Fire Department
Battalion Chief Dan Wagner, Elgin Fire Department
Fire Chief Joseph Schrage, Highland Park Fire Department
Deputy Fire Chief Frank Nardomarino, Highland Park Fire Department
Lieutenant John Brens, Highland Park Fire Department
Lieutenant Paul Grzybek, Highland Park Fire Department
Lieutenant Albert Lopez, Highland Park Fire Department
Lieutenant Erik Mocogni, Highland Park Fire Department
Lieutenant Eloy Salazar, Highland Park Fire Department
Firefighter Kevin Best, Highland Park Fire Department
Firefighter Peter Caruso, Highland Park Fire Department
Firefighter Peter Goss, Highland Park Fire Department
Firefighter Christopher Gottschalk, Highland Park Fire Department
Firefighter Brian McDonald, Highland Park Fire Department
Firefighter Michael Miniscalco, Highland Park Fire Department
Firefighter Trevor Mount, Highland Park Fire Department
Firefighter Beneiamin Oros, Highland Park Fire Department
Firefighter Michael Pacocha, Highland Park Fire Department
Firefighter Michael Schmidt, Highland Park Fire Department
Firefighter Andrew Seibel, Highland Park Fire Department
Firefighter Micah Swislow, Highland Park Fire Department
Firefighter Peter Tameling, Highland Park Fire Department
Firefighter Nicholas Traske, Highland Park Fire Department
Twenty-three firefighters received the Firefighter Excellence Award for an act of service in the line of duty, demonstrating excellence and professionalism in service to their fellow Illinoisans. Recipients include:
Captain Joseph Garland, Belleville Fire Department
Probationary Firefighter Michael Schwent, Belleville Fire Department
Firefighter John McClement, Blue Island Fire Department
Firefighter Anthony Parillo, Blue Island Fire Department
Battalion Chief William Brennan, Highland Park Fire Department
Battalion Chief Ryan Hughes, Highland Park Fire Department
Lieutenant Kevin Maslon, Highland Park Fire Department
Lieutenant Matthew Stanley, Highland Park Fire Department
Lieutenant Griffin Van Black, Highland Park Fire Department
Firefighter Nathan Abbott, Highland Park Fire Department
Firefighter Richard DiSalvo, Highland Park Fire Department
Firefighter Jacob Emmerson, Highland Park Fire Department
Firefighter Brian Fabbri, Highland Park Fire Department
Firefighter Jacob Flosi, Highland Park Fire Department
Firefighter Matthew Grasso, Highland Park Fire Department
Firefighter Kevin Lavazza, Highland Park Fire Department
Firefighter Michele Molini, Highland Park Fire Department
Firefighter Thomas Richards, Highland Park Fire Department
Firefighter Michael Shimanski, Highland Park Fire Department
Firefighter Steven Urban, Highland Park Fire Department
Firefighter Jeffrey Wilmot, Highland Park Fire Department
Firefighter/Paramedic Paul Ortiz, Huntly Fire Protection District
Assistant Chief Raymond Scott, Sesser Fire Protection District
In addition, two units received the Firefighter Excellence "Unit Citation" Awards for an act of service in the line of duty, demonstrating excellence, teamwork, and professionalism in service to Illinois residents. Recipients include:
Incident #22—00642 Blue Island Fire Department
Lieutenant Joseph Olson
Firefighter John Duffy
Firefighter Angel Maschietto
Firefighter Bennett Scott
Firefighter Matthew Sutkus
Incident #22—5470 Plainfield Fire Protection District
Lieutenant Eric Jensen
Lieutenant Patrick Murphy
Firefighter/Paramedic Robert Underhill
The State Fire Marshal Life Safety Award is given in recognition of the extraordinary efforts performed by individuals in furtherance of fire prevention and life safety. Three Life Safety Awards were presented. Recipients include:
Matt Hedges, Woodstock Fire Rescue District
Tom Andryk, OFSM Personnel- Administration
Tom Manis, OSFM Personnel- Operations
More like this: