Gov. Pritzker To Lead Trade Mission To The United Kingdom
Listen to the story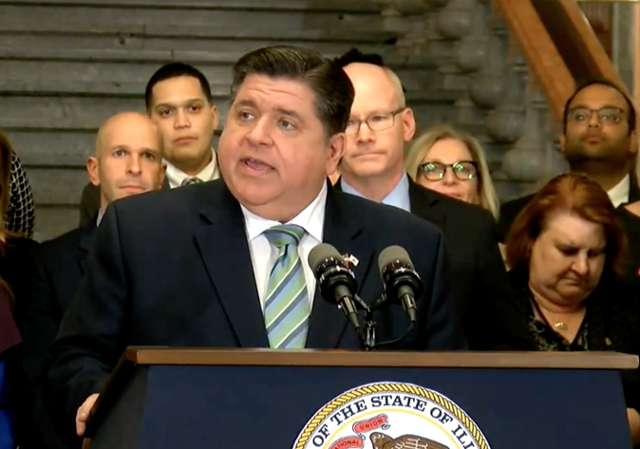 CHICAGO - Governor Pritzker along with leaders in business and education from around the state will embark on a trade mission to the United Kingdom on July 16. The Governor will kick off the international trip by attending the Goodwood Festival of Speed from July 13-16 to discuss Illinois' commitment to electric vehicle manufacturing with automobile, energy, and supply chain industry leaders.
Get The Latest News!
Don't miss our top stories and need-to-know news everyday in your inbox.
Following the Goodwood Festival of Speed, a delegation of business and education leaders will meet with their counterparts in London to discuss strengthening economic cooperation between the State of Illinois and the United Kingdom. Programming throughout the mission will focus on manufacturing, clean energy and technology, quantum, higher education collaboration, and other key industries.
"When I first ran for Governor, I promised to be our state's best Chief Marketing Officer—letting the world know that Illinois is the best place to live, work, and do business," said Governor JB Pritzker. "Over the next several days, I couldn't be more excited to meet with UK and international leaders—sharing the many virtues of our state, from our talented workforce and world-class manufacturing industry to our booming electric vehicle ecosystem and ambitious clean energy goals."
"The State of Illinois and the United Kingdom have a longstanding economic relationship and as Illinois' economic development agency, we look forward to building upon this enduring partnership," said DCEO Director Kristin Richards. "With $5 billion in bilateral trade in 2022, this trip will help us further strengthen our ties and give us the opportunity to meet with some of the most talented leaders across industries in the UK while forging connections on business opportunities that will benefit Illinoisans and people from Britain alike."
Article continues after sponsor message
"The UK is one of the top foreign investors in Illinois, so this trip is about building on that strength to encourage more British companies to be in Illinois," said Intersect Illinois CEO Dan Seals. "We're making the case for our skilled workforce, our central location, our quality of life, and our international outlook."
Leaders joining the trade mission include:
Governor JB Pritzker
First Lady MK Pritzker
Emanuel "Chris" Welch, Speaker of the IL House
Anne Caprara, Chief of Staff to Governor Pritzker
Andy Manar, Deputy Governor
Christy George, First Assistant Deputy Governor
Martin Torres, Deputy Governor
Sean Rapelyea, Senior Advisor for External Affairs
Jordan Abudayyeh, Deputy Chief of Staff for Communications
Kristin Richards, Director, DCEO
Margo Markopoulos, DCEO, Director of Trade and Investment
Cas Peters, DCEO, Senior Policy Advisor
Dan Seals, Intersect Illinois, CEO
Paulina San Millan, Intersect Illinois, VP for Business Development
Alan Gogbashian, UK Consul General to Chicago
Tim Killeen, University of Illinois, President
Jay Walsh, University of Illinois, VP
Juan de Pablo, University of Chicago, EVP
Raj Echambadi, Illinois Institute of Technology, President
Kate Waimey Timmerman, Chicago Quantum Exchange, CEO
David Awschalom, Chicago Quantum Exchange, Director
Pranav Gokhale, Infleqtion, VP of Quantum Software
Carmen Rossi, 8 Hospitality, CEO
Meredith O'Connor, JLL, International Director
AJ Patton, 548 Enterprise, CEO
Jim Reynolds, Loop Capital, CEO
Wendell Dallas, Nicor Gas, President and CEO
Gil Quiniones, ComEd, CEO
Torrence Hinton, People's Gas and North Shore Gas, President
Leonard Singh, Ameren, Chairman and President
Kara Demirjian Huss, T/CCI Manufacturing, VP; DCC Marketing, Founder & President
Berardino Baratta, MxD, CEO
Mark Denzler, Illinois Manufacturing Association, CEO
David Boulay, Illinois Manufacturing Excellence Center, President
Michael Jacobson, Illinois Hotel and Lodging Association, CEO
Rob Karr, Illinois Retail Merchants Association, CEO
Jeff Baker, Illinois Realtors Association, CEO
Michael Gobber, Illinois Realtors Association, President
Brad Tietz, Chicagoland Chamber of Commerce, VP of Gov. Relations
Monica Mueller, Motorola Solutions, VP of Gov. Affairs
Dan Lynch, United Airlines, VP of State and Local Govt.
John Atkinson, Marsh US in Chicago, Chairman and Managing Director
Illinois and the United Kingdom have a long history of shared economic cooperation.
Exports are a Vital Part of Illinois' Economy
Illinois exports exceeded $78 billion in 2022 with the preliminary agricultural adjusted figure reaching $82.2 billion, both all-time highs
Illinois is the largest exporting state in the Midwest and the 5th largest in the nation
19 out of the top 20 export industries increased since 2021
Since 2009, Illinois exports have increased by $36.55 billion, or 87.8%
Export activities support over 800K jobs in Illinois
Total Trade between Illinois and United Kingdom in 2022
Illinois exports to United Kingdom totaled $1.94 billion in 2022
United Kingdom is Illinois' 9th largest export market
Illinois ranks 10th among the 50 U.S. states in exports to United Kingdom
Illinois imports from United Kingdom totaled $3.14 billion in 2022, a 139.8% increase since 2009.
United Kingdom is Illinois' 13th largest import market
Illinois ranks 6th among the 50 U.S. states in imports from United Kingdom
More like this: