Gov. Pritzker Announces Nearly $60 Million In Grants For 118 Local Park And Recreation Projects Throughout Illinois
Listen to the story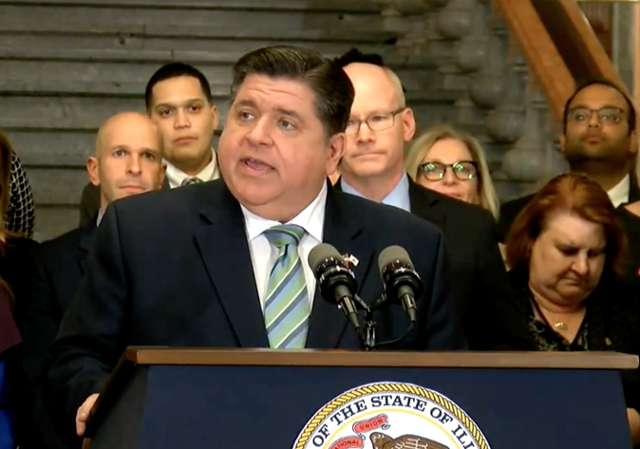 SPRINGFIELD — Governor JB Pritzker along with state and local leaders and the Illinois Department of Natural Resources (DNR) today announced nearly $60 million in state grants are being awarded for 118 local park projects throughout Illinois to help communities acquire land and develop recreational opportunities. The grants represent the largest round of Open Space Land Acquisition and Development (OSLAD) grants in the 36-year history of the program, which was designed to help communities fund land acquisition and development for parks and outdoor recreation projects.
Get The Latest News!
Don't miss our top stories and need-to-know news everyday in your inbox.
In addition, for the first time in the history of the program, funding will cover 100% of eligible projects located in economically distressed communities, resulting in 22 underserved locations receiving OSLAD grants.
"Today, I couldn't be prouder to announce that IDNR's OSLAD program is offering the largest round of grants in the history of the program — nearly $60 million," said Governor JB Pritzker. "The health and wellbeing of Illinoisans sits at the heart of the OSLAD program, and for the first time ever, we've been able to provide 100% of funding assistance to qualifying distressed recipients."
Established by the Illinois General Assembly in 1986, OSLAD is a cost-sharing program between state and local governments that has become one of the most popular grant programs in Illinois. Since it was established, OSLAD has awarded more than $530 million for park projects throughout Illinois (including the awards announced today).
"I appreciate Governor Pritzker's push to increase state funding for the OSLAD program and also set aside money to ensure traditionally underserved communities are able to build and improve their parks," said DNR Director Natalie Phelps Finnie. "An investment in the outdoors is an investment in the health and well-being of the people of Illinois. We know that 83% of Illinoisans consider access to outdoor recreational opportunities important for them and their families. We also know that getting outside leads to better overall health."
An economically distressed community, calculated using data from the Illinois Census and the Illinois Department of Revenue, considers an area's poverty level and equalized assessed valuation (EAV). In FY 2023, as a result of the Department's efforts, DNR awarded 25.5% of the OSLAD funding to distressed communities, up from 4.7% in FY 2022.
The Springfield Park District will receive a $600,000 OSLAD grant for a project at Gietl Park that includes demolishing an existing outdoor pool and bathhouse, and construction of a large, modern splash pad designed for multiple age groups. The park district will also add fencing, gates, concrete plazas, walkways, park shelters, LED lighting, landscaping, seating, picnic tables and more.
"Improving Gietl Park is one of my top priorities," said Leslie Sgro, president of the Springfield Park District Board. "Thanks to Governor Pritzker and the OSLAD grant, the Springfield Park District will be able to renovate a beloved neighborhood park in a distressed part of our community with exciting new facilities that can be enjoyed by all."
Examples of other distressed communities that will receive OSLAD grants for park projects include:
The City of Benld, in Macoupin County, will build a park on the site of former Benld Elementary School, which was destroyed by underground mine subsidence in 2009. The city will receive a $600,000 OSLAD grant to develop that park.
The Peoria Park District will use a $255,000 OSLAD grant to acquire 40 acres along the Illinois River Bluff for extending the 9.1-mile Illinois River Bluff hiking trail, including conservation of fragile and unique bluff land and interpretive uses. Separately, the park district will receive a $600,000 grant for replacing an outdoor swimming pool at Lakeview Park with a splash pad and spray park, playground improvements, and building a public restroom for the park.
The Chicago Heights Park District will receive a $600,000 OSLAD grant for expansion of Commissioners Park, including three soccer fields, lighting to accommodate extended evening play, and spectator seating. The expansion is needed to accommodate increasing interest in soccer programs for youth and adults and other factors.
To help facilitate the timely award of OSLAD grants for fiscal year 2023, IDNR contracted with the Northern Illinois University Institute for the Study of Environment, Sustainability and Energy. Fifteen graduate and undergraduate NIU students served as supervised grant reviewers for OSLAD in a first-of-its-kind partnership.
"Our students are really excited about the impact this program will have on neighborhoods, communities and counties," said Thomas Skuzinski, director of the institute. "They remember the impact that parks and open spaces had on the communities where they grew up, and they want others to be able to share in those experiences. The students are not only putting their expertise in environmental studies to good use but also are learning to work at a high level of professionalism with a state agency."
OSLAD grants typically provide up to 50% of funding for a project – excluding economically distressed communities where 100% of project costs have been covered. The other 50% are supplied by matching funds from the project's local government agency.
"The Illinois Association of Park Districts and its members are extremely grateful to Governor Pritzker for ensuring that these dedicated matching grant funds are awarded for much needed park improvement projects benefiting communities throughout Illinois," said Peter Murphy, President & CEO of the Illinois Association of Park Districts. "For more than three decades, OSLAD-funded projects have provided Illinoisans with access to local parks, including those who are disadvantaged and underserved, persons with disabilities and special needs, seniors, and families. OSLAD capital improvements projects create jobs, support small businesses and labor, promote physical and mental health, help educate and provide jobs to youth, and improve the environment. As IDNR staff can attest, there is an overwhelming demand for these projects, and today's grants will once again enable local parks to make Illinois a better place to live, work, and play."
"Investments into our local parks build up our community and neighborhoods, especially in disadvantaged areas," said State Senator Doris Turner (D-Springfield). "As a lifelong resident of Springfield, we are fortunate enough to have a variety of parks here and across the 48th District. I have seen the benefits residents get from our parks and I look forward to seeing Gietl Park's redevelopment through for all to enjoy."
FY2023 OSLAD grant awards
Alexander County
City of Cairo – $599,500*
Bond County
Kingsbury Park District – $600,000*
Bureau County
Village of Neponset – $596,821*
Village of Tiskilwa – $600,000*
Calhoun County
Village of Hardin – $600,000
Carroll County
City of Mount Carroll – $371,000
Champaign County
Champaign County Forest Preserve District – $400,000
Urbana Park District – $550,000
Clay County
Flora – $299,557
Louisville – $581,881
Cook County
Arlington Heights Park District – $600,000
Chicago Heights Park District – $600,000*
City of Calumet City – $600,000
City of Chicago – $407,269
Forest Preserve District of Cook County – $428,750
Mount Prospect Park District – $600,000
Norridge Park District – $600,000
Palatine Park District – $499,900
Park District of Forest Park – $424,200
Streamwood Park District – $467,081
Worth Park District – $325,000
Village of Brookfield – $600,000
Hickory Hills Park District – $241,700
Skokie Park District – $357,000
Northbrook Park District – $600,000
Westchester Park District – $600,000
Niles Park District – $600,000
City of Palos Heights – $600,000
Morton Grove Park District – $398,000
Oak Lawn Park District – $600,000
Rolling Meadows Park District – $600,000
Lemont Park District – $600,000
McCook Park District – $231,628
Park Ridge Park District – $600,000
Crawford County
Oblong – $598,480.90
DeKalb County
DeKalb Park District – $507,000
Genoa Park District – $102,800
DuPage County
Elmhurst Park District – $340,300
Woodridge Park District – $600,000
Wood Dale Park District – $600,000
Carol Stream Park District – $400,000
Bloomingdale Park District – $300,000
Addison Park District – $600,000
Lombard Park District – $600,000
Downers Grove Park District – $425,000
Itasca Park District – $600,000
Winfield Park District – $600,000
Hanover Park Park District – $600,000
Fox Valley Park District – $600,000
Darien Park District – $600,000
St. Charles Park District – $600,000
Effingham County
Village of Montrose – $600,000*
Greene County
City of White Hall – $242,500
Grundy County
City of Morris – $600,000
Hancock County
Village of Plymouth – $600,000*
Henry County
City of Kewanee – $600,000*
Jasper County
Willow Hill – $372,195.20
Article continues after sponsor message
Jefferson County
City of Mount Vernon – $429,189*
Jersey County
City of Jerseyville – $600,000
Kane County
Batavia Park District – $600,000
Forest Preserve District of Kane County – $600,000
Hampshire Township Park District – $600,000
Village of South Elgin – $600,000
Geneva Park District – $600,000
Kankakee County
City of Kankakee – $600,000*
Kankakee River Valley Forest Preserve District – $207,750
Kendall County
Kendall County Forest Preserve District – $600
Knox County
City of Galesburg – $224,825
Lake County
Lake County Forest Preserve District – $600,000
Mundelein Park and Recreation District – $400,000
Park District of Highland Park – $600,000
Wauconda Park District – $473,500
Zion – $600,000
Township of Antioch – $599,822.50
Village of Libertyville – $469,000
Deerfield Park District – $600,000
Vernon Hills Park District – $566,465
Village of Round Lake Beach – $580,915
Buffalo Grove Park District – $600,000
Grant Township Highway – $600,000
LaSalle County
City of Marseilles – $600,000*
City of Ottawa – $506,000
Macon County
Macon County Conservation District – $300,000
Macoupin County
City of Benld – $600,000*
Village of Palmyra – $600,000
Madison County
Madison County Mass Transit District – $388,000
Mason County
Havana Park District – $544,121*
McDonough County
Village of Industry – $600,000*
McHenry County
McHenry County Conservation District – $200,000
City of Woodstock – $600,000
Crystal Lake Park District – $600,000
Village of Richmond – $137,390
Village of Algonquin – $600,000
Menard County
City of Petersburg – $173,355
Mercer County
City of Aledo – $600,000
Monroe County
City of Columbia – $600,000
Ogle County
Village of Davis Junction – $600,000
Peoria County
Pleasure Driveway Park District of Peoria – $255,000*
Pleasure Driveway Park District of Peoria – $600,000*
Chillicothe Park District – $600,000
Perry County
City of Pinckneyville – $222,600*
Pike County
Village of Milton – $599,000*
Pulaski County
Village of Olmsted – $600,000*
Rock Island County
City of Rock Island – $347,500*
Sangamon County
Springfield Park District – $600,000*
Scott County
Village of Bluffs – $600,000*
St. Clair County
City of O'Fallon – $600,000
Will County
Village of Monee – $600,000
Plainfield Township Park District – $377,500
Village of Plainfield – $284,500
Village of University Park – $200,000
New Lenox Community Park District – $600,000
Village of Shorewood – $600,000
Channahon Park District – $300,000
Oswegoland Park District – $600,000
Winnebago County
Village of New Milford – $600,000*
Village of Machesney Park – $506,150
Woodford County
City of Eureka – $600,000
More like this: