Gov. Pritzker Announces Gulfstream Aerospace Corp. Expansion in Cahokia Heights
Listen to the story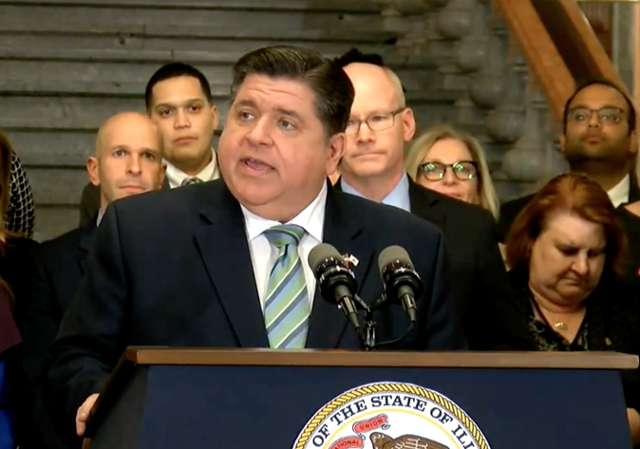 CAHOKIA HEIGHTS - Governor JB Pritzker, Gulfstream Aerospace Corp. and the Illinois Department of Commerce and Economic Opportunity (DCEO) today announced that Gulfstream will expand its operations at the St. Louis Downtown Airport - creating 200 new full-time jobs and retaining nearly 500 existing jobs. New investments will enable the company to increase completions and outfitting operations while investing in modernization at its Cahokia Heights facility.
"Illinois sits at the heart of the Midwest—serving as a major transportation hub for cargo and passengers alike," said Governor JB Pritzker. "Gulfstream's latest $28.5 million investment into Cahokia Heights' St. Louis Downtown Airport speaks to the steps my administration has taken to attract new businesses to our state—all while modernizing our infrastructure and supporting our workforce to meet the demands of our 21st century economy."
Get The Latest News!
Don't miss our top stories and need-to-know news everyday in your inbox.
Through a $28.5 million investment, Gulfstream Aerospace Corp. – which designs, develops and services the world's leading business aircraft – will be expanding its Cahokia Heights facility which will enable the company to increase capacity for exterior aircraft painting, furniture installations, avionics integrations and other operations. The company's investment will also modernize facilities adding state-of-the-art equipment and tooling while improving energy efficiency and reducing waste. Once complete, the expansion will bring Gulfstream's total footprint at Cahokia Height's St. Louis Downtown Airport to 642,657 square feet.
"We are excited to announce the expansion of our facility operations in Cahokia Heights," said Mark Burns, president, Gulfstream. "This is a direct response to the increased demand we are seeing from around the world, and we appreciate our partnerships with the state of Illinois, St Clair County, Bi-State Development, the city of Cahokia Heights and the village of Sauget for their continued support as we grow our presence and local workforce in the region."
As part of the expansion, the company received an Economic Development for a Growing Economy (EDGE) tax credit, which stipulates a goal of making a $28.5 million investment and creating 200 new full-time jobs and retaining nearly 500 jobs. A link to the full agreement can be found here. In calendar year 2022, companies in the EDGE program committed more than $1 billion in investments in Illinois communities across the state.
"Gulfstream's expansion creates hundreds of jobs in Metro East Region and equally important, strengthens the aviation and aerospace workforce pipeline through training partnerships," DCEO Director Kristin Richards. "Illinois has long been a destination for aviation and aerospace leaders and through EDGE, DCEO is working to further expand the ecosystem."
Gulfstream's expansion adds hundreds of new career opportunities in avionics, interior installations, structures and testing, as well as positions in procurement, parts management, customer service, and engineering. To help build the talent pipeline in the region, Gulfstream is partnering with several local educational institutions, including East St. Louis Senior High School, The Center for Academic & Vocational Excellence in Belleville, Illinois, and Cahokia High School.
Article continues after sponsor message
"Gulfstream's announcement is evidence that the aerospace and manufacturing industry has a strong future in the Metro East," said Assistant Majority Leader Jay Hoffman (D-Swansea). "In the General Assembly, I've been an advocate for making sure that we have the tools we need to attract, retain, and grow stellar companies in Illinois."
"I'm so proud of the investment that Gulfstream is making in the hard working men and women of St. Clair County," said State Senator Christopher Belt (D-Swansea). "I know that Gulfstream will continue to be successful and grow here because we have a skilled and trained workforce that is ready to go."
"Every new job created in St. Clair County is worth celebrating, but I'm especially excited about the 200 new jobs that Gulfstream will be creating at their expanded facility," said State Rep. Kevin Schmidt (R-Millstadt). "They could have gone anywhere in the country, but they are here because Illinois has the workforce and infrastructure."
Gulfstream's facility is located in St. Clair County at the St. Louis Downtown Airport – which serves as the busiest general aviation airport in Illinois outside of the Chicago area. The airport is a significant driver of local and state economies, contributing more than $422 million in economic impact for the region annually, including more than 1,500 jobs. The airport supports recreational and business flying as well as flight instruction.
In April 2023, Governor Pritzker Announced a $5.4 million Rebuild Illinois investment in St. Louis Downtown Airport to improve safety, reliability and efficiency while boosting airport business and global competitiveness. The investment funds a ground run-up and compass calibration pad that include new airfield pavement with jet blast deflectors. The engine run-up will be isolated from airfield operations, reducing noise levels by more than 50% and accommodating the airport's largest aircraft.
About Gulfstream Aerospace Corp:
Inspired by the belief that aviation could fuel business growth, Gulfstream Aerospace Corp. invented the first purpose-built business aircraft, the Gulfstream I, which first flew in 1958. Today, more than 3,000 aircraft are in service around the world. Together with parent company General Dynamics, Gulfstream consistently invests in the future, dedicating resources to researching and developing innovative new aircraft, technologies and services. With a fleet that includes the super-midsize Gulfstream G280, the high-performing Gulfstream G650 and Gulfstream G650ER, and a next-generation family of aircraft including the all-new Gulfstream G400, the award-winning Gulfstream G500 and Gulfstream G600, the flagship Gulfstream G700 and the ultralong-range Gulfstream G800, Gulfstream offers an aircraft for every mission. All are backed by Gulfstream's Customer Support network and its worldwide team. Visit the company's website at gulfstream.com.
More like this: