Gov. Pritzker Announces $38 Million For CEJA Workforce Hubs
Listen to the story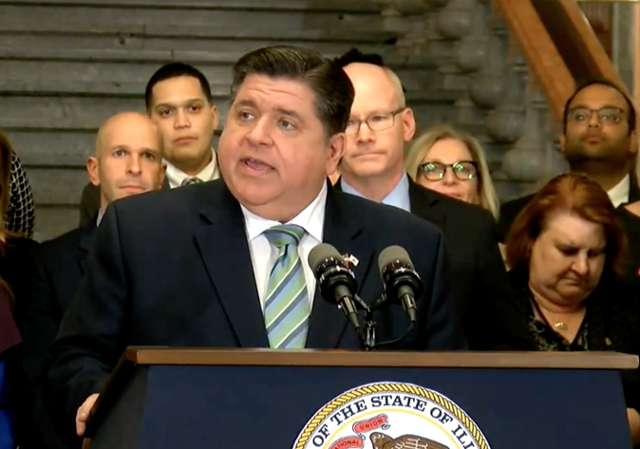 CHICAGO – Governor JB Pritzker and the Illinois Department of Commerce and Economic Opportunity (DCEO) launched $37.9 million in funding for the Illinois Clean Jobs Workforce Network Program or "CEJA Workforce Hubs." The program represents the largest training component of the Climate and Equitable Jobs Act (CEJA), establishing a network of 13 community-based hubs across the state offering training, job placement services, barrier reduction support and more. The organizations that will run CEJA Workforce Hubs will be selected through a competitive Notice of Funding Opportunity (NOFO) process.
Get The Latest News!
Don't miss our top stories and need-to-know news everyday in your inbox.
"It's been our priority since day one that as Illinois moves into the clean energy future, we make sure to continue to build strong career paths for those breaking into this growing industry," said Governor JB Pritzker. "Investing in these workforce hubs is a cornerstone of that commitment, working in collaboration with educational institutions and businesses to build on our successes as we move towards a greener and more equitable state."
The CEJA Workforce Hubs are at the core of a highly interconnected set of statewide clean energy workforce development and community support programs. The Hubs will provide training and certification in alignment with the Clean Jobs Curriculum Framework to prepare people for entry-level clean energy jobs, including an introductory bridge training program and at least two job-specific training programs in the clean energy space, which will be selected by each Hub based on the local clean energy workforce needs. Participants can attend free of charge, receive a stipend, and access support services through barrier reduction funding.
"The CEJA Workforce Hubs program is a testament to our administration's commitment to building a greener tomorrow and standing in the gap to uplift the Illinoisans who will steward us to a clean energy future," said Lt. Gov. Juliana Stratton. "These community-based hubs will remove barriers to economic opportunities and ensure that our communities have the tools and training for the jobs of tomorrow, as Illinois continues to lead the way in innovative, sustainable industries."
The CEJA Workforce Hubs will align with the needs of clean energy employers, provide students with nationally recognized certifications, and provide a pathway to long-term careers in the renewable energy, electrification and energy efficiency industries. The program will also provide access to educational and career counseling along with hands-on learning that will reinforce foundational professional skills taught in the classroom. The program is anticipated to enroll 1,500 participants during its first year, with capacity increasing over the course of the program.
"The CEJA Workforce Hubs are key to the state's transformative clean energy workforce efforts," said DCEO Director Kristin Richards. "With a key focus on equity, the 13 Hubs will open up opportunities and serve as a critical launchpad to obtain jobs in Illinois' growing clean energy sector."
The program is bolstered by Barrier Reduction Program funding, which will provide services for participants to address common barriers for underrepresented populations such as transportation, childcare, supplies, and other expenditures that often amount to roadblocks to success. $22.9 million is allocated for the Clean Jobs Workforce Network Program and $15 million is allocated for the Energy Transition Barrier Reduction Program.
"As we build a clean energy economy, we must put equity and inclusion at the forefront," said Speaker Emanuel "Chris" Welch (D-Westchester). "This grant opportunity is not just about funding training programs; it's going to directly affect communities all across Illinois where these jobs are most needed and provide important resources for our working families."
Article continues after sponsor message
"The State of Illinois is doing our part to build a clean energy future with a thriving economy," said Illinois Senate President Pro Tem Bill Cunningham (D-Chicago). "We are also doing our part to ensure that we are setting the industry up for success with a diverse and qualified workforce that can get the job done."
"When we designed CEJA, we knew it would be a major transition for our energy industry, but also for our workforce," said Assistant Majority Leader Marcus C. Evans, Jr. (D-Chicago).
"These training programs will provide the South Side and 12 other locations across Illinois access to good paying jobs that will only become more in-demand as the clean energy economy grows."
"We cannot ignore the climate crisis-- it is happening around us every day," said Majority Leader Robyn Gabel (D-Evanston). "We also cannot pretend that this transition will be easy. That is exactly why CEJA was designed to consistently provide resources for workforce development so that we can ensure that no one is left behind."
"When we provide an individual with training and credentials, we are not just giving them one tool for their next job. We are setting them on a course for their entire career so they can be competitive in the modern workforce," said Assistant Majority Leader Jay C. Hoffman, (D-Swansea). "I look forward to seeing many more union journeymen and journeywomen working on clean energy infrastructure because of today's announcement."
Each Hub will also closely coordinate with Energy Transition Navigators and other community partners to recruit individuals for the training programs. Hubs will develop partnerships with employers to help meet workforce needs and provide transition services following the completion of the training programs to help participants find jobs.
Through a competitive Notice of Funding Opportunity (NOFO), qualified entities can apply for grants, with awards ranging from $1 million to $5 million (inclusive of CEJA Workforce Hubs and Barrier Reduction Program funding). Applications will be accepted until September 1, 2023, at 5:00 p.m. To view the NOFO and apply for the grant, please visit the DCEO website. Interested parties are encouraged to reach out to CEO.GrantHelp@illinois.gov for application assistance.
Qualified entities include community-based organizations such as non-profits, community colleges, and local governments that provide employment skills, training or related services located in the 13 geographic areas designated as hub locations by statute: Alton, Aurora, Carbondale, Champaign, Chicago (South Side), Chicago (Southwest and West Sides), Danville, Decatur, East St. Louis, Joliet, Peoria, Rockford and Waukegan. DCEO anticipates identifying at least one grantee to administer the program in each of the 13 locations.
The CEJA Workforce Hubs Program is one of several workforce programs established by the landmark CEJA legislation intended to move Illinois to a 100% carbon-free future. Under CEJA, DCEO will administer $180 million per year in workforce and community support programs designed to build Illinois' clean energy economy and prepare the state's workforce and communities for the jobs of the future.
More like this: