Listen to this article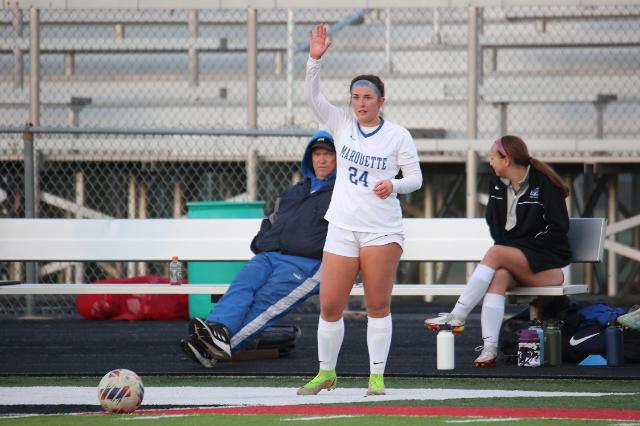 COLUMBIA 5, MARQUETTE CATHOLIC 4
Get The Latest News!
Don't miss our top stories and need-to-know news everyday in your inbox.
After opening the season off with a 5-0 win over Springfield in the Metro Cup Showcase, the Explorers fall to 1-1 after losing a classic against Columbia Tuesday night at Gordon Moore Park by a score of 5-4.
Ella Anselm broke the tie and gave the Explorers their only lead in the game. Two goals from Maddie Mauch turned things around and made it 2-1 Eagles. Columbia went up 3-1 at halftime thanks to Reese Woelfel's goal.
Anselm scored again to open the second half, one that saw six goals, four of which came in the final 10 minutes. She cut the deficit back down to one before Woelfel doubled up with less than 10 minutes to go.
Eleanor Tiemann scored to make it 4-3 but Mauch wrapped up her hat trick with four minutes left to go back up 5-3. Marquette ended the scoring when Caroline Stephan put one in the back of the net in the dying minutes.
Every time Columbia struck, Marquette answered, but couldn't climb all the way back after multiple two-goal deficits.
Radley Honer and Haley Williams each had an assist on the night.
Marquette will be back in action tomorrow night, March 23, when they host the Mater Dei Knights at 6 p.m.
ALTON 11, PIASA SOUTHWESTERN 0
Article continues after sponsor message
[ALSO: Alton's Offense Explodes In 11 Goal Shutout Over Piasa Birds]
GRANITE CITY 4, BELLEVILLE WEST 0
[ALSO: Vasiloff Scores Twice As Lady Warriors Have Good Outing Against Maroons]
EDWARDSVILLE 5, COLLINSVILLE 5
[ALSO: Peel, Baca Each Has Brace, Hook Also Scores As Edwardsville Blanks Kahoks 5-0]
JERSEY 4, METRO-EAST LUTHERAN 2
ALTHOFF CATHOLIC 1, MASCOUTAH 0
WATERLOO 3, MATER DEI 0
FREEBURG 12, SALEM 0
HIGHLAND 6, STAUNTON 2
More like this: