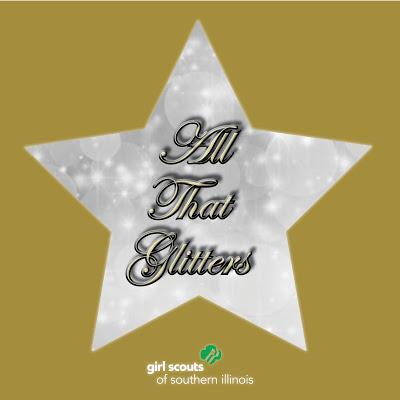 GLEN CARBON – Girl Scouts were shining stars during Girl Scouts of Southern Illinois' (GSSI) All That Glitters award ceremony on April 1, 2017 at the Holiday Inn in Mt. Vernon, Illinois. Each year, the banquet recognizes Girl Scouts from across southern Illinois who achieve significant accomplishments in community service and leadership.
Awardees included recipients of the Girl Scout Gold Award, the top individual award a Girl Scout can earn, as well as the Girl Scout Silver Award, which is the highest award a Girl Scout Cadette can earn. Fifteen Girl Scouts also were honored with the Trifecta Award, which recognizes the outstanding accomplishment of earning the Girl Scout Bronze Award, the Girl Scout Silver Award and the Girl Scout Silver Award. In addition, Kathleen McCracken from Edwardsville, Caroline Stewart from Belleville and Kayli Worthey from Neoga were named Graduating Girl Scouts for their extraordinary Girl Scout careers. McCracken and Stewart received a $500 scholarship funded by GSSI's Annual Brownie Haunted Camp event, while Worthey received a $1,000 scholarship funded by GSSI's staff giving campaign.
Get The Latest News!
Don't miss our top stories and need-to-know news everyday in your inbox.
Please see the following list for a full description of awards, as well as a list of this year's awardees.
The Girl Scout Gold Award recognizes leadership, effort and impact that Girl Scout Seniors and Girl Scout Ambassadors have had on their communities. Only about 5 percent of eligible girls take the rigorous path toward earning this prestigious award, but those who complete the journey change the lives of others and their own in amazing and significant ways. This year's Girl Scout Gold Award recipients include:
Belleville: Amelia Schmitz*
Caroline Stewart*
Carbondale: Josefina Pimentel
Collinsville: Emily Baima*
Elizabeth Burr*
Lauren Carter*
Columbia: Hannah Redinger*
Kelsey Weatherford*
Glen Carbon: Sarah Goldacker
Granite City: Hannah Grotecke
Dakota Smallie*
Shelby Tingley
Highland: Johannah Comish*
Millstadt: Gabriella Holmes*
Nashville: Alexandra Waugh
Neoga: Kayli Worthey
O'Fallon: Elizabeth Boehning*
Caitlin Lloyd
Lauren Lundy
Jordyn Thompson*
Red Bud: Cecelia Cowell*
Swansea: Sarah Eversman
Troy: Kaitlyn Barnett*
Madeleine Renken*
Please note – girls with an asterisk (*) by their names also earned the Girl Scout Trifecta Award. The Girl Scout Trifecta Award recognizes GSSI Girl Scouts who have earned the Girl Scout Bronze Award, Girl Scout Silver Award and the Girl Scout Gold Award.
The Girl Scout Silver Award, the highest award a Girl Scout Cadette can earn, is symbolic of accomplishments in Girl Scouting and community activities as a girl becomes her best self and builds the world around her. The Girl Scout Silver Award project benefits a girl's community and can be earned as an individual or as part of a group. This year's Girl Scout Silver Award recipients include:
Anna: Olivia Capel
Hannah Miller
Belleville: Katelynn Allen
Natalee Brannaman
Ayanna Brown
Kennedy Elbe
OIivia Futrell
Megan Gebke
Allyson Nowak
Tia Perkins
Katherine Satterfield
Kalynn Schwoebel
Kaeloni Slawter
Annette Smith
Zoe Smith
Kamela Straub
Breese: Brooke Bassler
Grace Kahrhoff
Carlyle: Alyssa Becker
Charleston: Cheyenne Hunter
Dorsey: Gwynn Frisbie Firsching
Edwardsville: Kamryn Van Arsdale
Effingham: Sydney Hodge
Glen Carbon: Olivia Bell
Madeleine Loyet
Kristen Valley
Granite City: Randi Ulrich
Highland: Allison Workman
Olivia Owens
Fayth Whicker
Hoyleton: Kimberly Stegman
Jonesboro: Olivia Bowen
Annalee Keller
Libby Smith
Jaley Watkins
Lebanon: Emmaleigh Fox
Article continues after sponsor message
Macedonia: Allie Dial
Marine: Jillianne Martin
Mascoutah: Alexys Nieves
Madison Sanker
Medora: Molly Hasquin
Metropolis: Autumn Cofield
Lily Conkle
Grace Davis
Alexis Frazine
Ashlynn Kommer
Savannah Meadows
Maci Miller
Alexandria Swafford
Anna Thompson
Millstadt: Natalie Hampsten
Alyssa Riley
Modoc: Faith Bailey
Mount Olive: Emma Hahn
Jordin Kierbach
Tori Kierbach
Shannon Minor
Libbie Nowell
Ashley Odorizzi
Hailey Odorizzi
Haley Pruden
Carlie Scheiter
New Baden: Angelika Donaldson
O'Fallon: Kayla Conklin
Emilee Hamm
Alexa Prouhet
Mia Torres
Makayla Weiss
Sofia Wojtal
Pinckneyville: Railyn Bardle
Emily Skinner
Gabrielle Sprague
Hayley Winter
Red Bud: Abigail Antry
Anna Beshoar
Anastasia Clark
Caitlin Dehne
Savannah Morris
Brooke Porter
Shiloh: Julia Dupuis
Emma Likert
Taylor Massey
Staunton: Honor Baker
Ainsley Baldwin Zurek
Kaylee Seelbach
Tamaroa: Kassity Lee
Thompsonville: Olivia Barclay
Jayma Lindhorst
Trenton: Jordan Linafelter
Waterloo: Aimee Magliulo
Wood River: KayLee Melton
Rebecca Noack
Worden: Gwendalyn Calvo
The Outstanding Graduating Girl Scouts Scholarships are awarded to extraordinary Girl Scout careers and can be used by girls to attend the college of their choice. This year's Outstanding Graduating Girl Scouts include:
Belleville: Caroline Stewart
Edwardsville: Kathleen McCracken
Neoga: Kayli Worthey
Girl Scouts of Southern Illinois is a high-capacity Girl Scout council serving approximately 13,000 girls and 4,500 adult volunteers in 40 ½ counties in southern Illinois.
The mission of Girl Scouting states: Girl Scouting builds girls of courage, confidence, and character who make the world a better place. Girl Scouts is the world's pre-eminent organization dedicated solely to girls - all girls - where, in an accepting and nurturing environment, girls build character and skills for success in the real world. In partnership with committed adults, girls develop qualities that will serve them all their lives - like strong values, social conscience, and conviction about their own potential and self-worth.
Today's Girl Scouts not only enjoy camping and crafts, but they also explore math and science and learn about diversity, good citizenship, leadership and teamwork. Girl Scouting is the place where girls experience the fun, friendship and power of girls together.
Girl Scouts of Southern Illinois is a not-for-profit organization supported by various United Ways throughout the region. Girl Scouts is a Proud Partner of United Way.
For more information, please call Jay Strobel at 800.345.6858 or e-mail.
More like this:
Related Video: