Girl Scout Builds Memorial Garden for Late Southwestern Teacher
July 8, 2023 12:51 PM
July 8, 2023 12:52 PM
Listen to the story
MEDORA - When Gabrielle McQuay decided to complete a Gold Project to round out her years as a Girl Scout, she knew exactly what she wanted to do. She decided to create the reading garden that late Southwestern teacher Lori Schultz had always wanted to see.
"It was in my mind ever since she died," Gabrielle said. "She always talked about it. She was really excited to get one and kept trying to convince them."
Get The Latest News!
Don't miss our top stories and need-to-know news everyday in your inbox.
Gabrielle has fond memories of Schultz and Medora Elementary School (now Medora Intermediate School). Schultz, a Jerseyville native, spent 14 years as a teacher in the Southwestern School District. She passed away in 2015 at age 37 after battling brain cancer for nine months. Gabrielle was a student in the last third-grade class she ever taught.
Now as a 2023 Southwestern High School graduate, Gabrielle is paying back some of the love that Schultz showed her students. She devoted her Gold Project — the highest honor in Girl Scouts — to Schultz and has spent several years organizing, fundraising and completing the gazebo that will now serve as a reading garden at Medora Intermediate School.
This project has been on Gabrielle's mind for a long time. Prior to her diagnosis, Schutlz had been advocating for a garden and had started fundraising with the school's student council to make it possible. After her passing, the district dedicated an area of the school yard to Schultz that was supposed to serve as the reading garden, but Gabrielle was troubled by the final result. It was a concrete pad and a bench, and not many kids used the area because there was no shade. It wasn't what she had pictured when Schultz talked about it.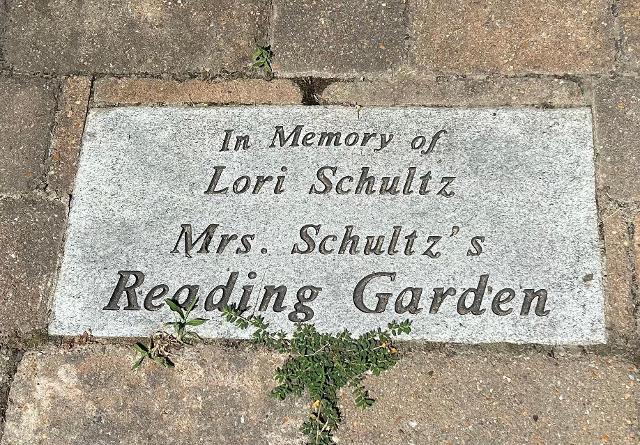 "They put this pad out, and way back then they had a little ceremony for it. But then I think over the years, people just kind of forgot. Nobody else coming in knew what this even was, and they didn't use this space," Tasha McQuay, Gabrielle's mother and Girl Scout troop leader, said. "It just kind of sat here unused, and it got forgotten."
When Gabrielle approached the school board about expanding the garden, they were immediately supportive and eager to see what she had planned. The COVID-19 pandemic sidelined the project for a while, but she spent the time finalizing her plans and fundraising so that she could finally break ground this summer.
And the Southwestern community showed up to help. Volunteers spent multiple weekends in June building the gazebo and picnic table with Gabrielle overseeing it all.
"Everyone had their fair share of sunburns and scrapes," Gabrielle said. "Lot of blood, sweat and tears."
Article continues after sponsor message
Literally. Fortunately, the building process only led to one emergency room visit, and everyone is okay. But it serves as a testament to the community's love for Schultz that so many volunteers continued to come back and help, even in record-setting heat.
Now that the build is complete, Gabrielle is on track to qualify for the Girl Scouts Gold Award. She will be the first Girl Scout in her troop to do so; only 13 scouts in the Southern Illinois region accomplished this in 2022–2023.
But while it's a prestigious opportunity, that's not why Gabrielle set out to build the reading garden. It has always been about remembering her favorite teacher.
"Her dream was to bring kids out here," Gabrielle said.
To honor that dream and complete the final component of her project, Gabrielle will host two community reading nights this month. There will be crafts, snacks and games, and everybody will go home with a free book.
With the building completed, Gabrielle admits that the scope of the project hasn't fully set in yet. But she is excited for a cedar sign that's on its way from Branson, MO., and will bear Schultz's name. The school is also planning to pour concrete around the gazebo's pillars and host a dedication ceremony later this year.
Above all, Gabrielle hopes that the garden will serve as a place for students to sit outside and enjoy the fresh air, which is what Schultz wanted.
"I just hope they'll be using it and learning about who she was," Gabrielle said.
The reading garden became a wish that Gabrielle and Schultz shared. Eight years later, it's finally come true.
More like this: