Friday Night Sports Roundup
December 17, 2022 7:33 AM
Listen to the story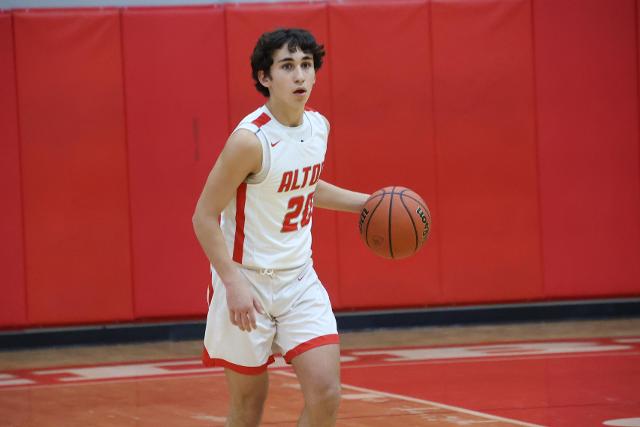 FRIDAY, DECEMBER 16 SPORTS ROUNDUP
BOYS BASKETBALL
Get The Latest News!
Don't miss our top stories and need-to-know news everyday in your inbox.
BELLEVILLE EAST 66, ALTON 31: In a Southwestern Conference game played at East, the Lancers went out to a quick lead and didn't look back in taking the in over visiting Alton.
East led from wire-to-wire, holding leads of 23-8, 38-16 and 58-24, outscoring the Redbirds in the final period 8-7.
Blake Hall led Alton with nine points, with Byron Stampley, Jr. scoring eight points, Hassani Elliott hit for six points, Kobe Taylor and Chris Atkins had three points each and Tyrius Jones scored two points.
The Lancers stayed undefeated at 9-0, while the Redbirds go to 1-7.
O'FALLON 53, COLLINSVILLE 50: Collinsville missed a pair of game-tying three point shots before the buzzer, allowing O'Fallon to escape with the Southwestern Conference win at the OTHS Panther Dome.
The Kahoks led after the first quarter 11-10, but the Panthers came back to take a 24-20 halftime lead, then went ahead after three quarters 39-34, with Collinsville outscoring O'Fallon in the fourth 16-14, but the Panthers coming away with the win.
Jake Wilkinson led Collinsville with 13 points, while Jamorie Wysinger had 10 points, Nick Horras added on nine points, both Zach Chambers and Adam Rimar scored eight points each and K.J. Thorps-Watt hit for two points.
The Panthers are now 8-2, while the Kahoks go to 7-3.
VIRDEN NORTH MAC 39, PIASA SOUTHWESTERN 37: In a very close game all the way, North Mac pulled out the South Central Conference win over visiting Southwestern.
The Piasa Birds led after the first quarter 8-6, then at halftime 15-11, with the Panthers cutting the lead to 27-25 after the third quarter, then outscored Southwestern in the fourth 14-10 to take the win.
Lane Gage led the Birds with 11 points, while Ryan Lowis had 10 points, Hank Bouillon hit for seven points, Rocky Darr and Collin Robinson scored four points each and Ian Brantley had a single point.
North Mac is now 4-3, while Southwestern falls to 4-6.
HIGHLAND 51, TRIAD 43: Highland broke a third-quarter tie to take the Mississippi Valley Conference win at Rich Mason Gym.
The Bulldogs led 13-12 after one quarter, with the Knights coming back to take a 21-19 lead at halftime, but Highland came back to tie the game 29-29 after three quarters, outscoring Triad in the fourth 22-14 to take the win.
Cade Altadonna led the Bulldogs with 19 points, while Jake Ottensmeier added 17 points, Brenden Gelly had eight points, Grant Fleming hit for five points and Gunnar Mackey scored two points.
McGrady Noyes had 12 points for the Knights, while both A.J. Mills and Tyler Thompson had 10 points each, Drew Winslow scored six points and Jake Stewart had five points.
Article continues after sponsor message
Highland is now 6-3, while Triad goes to 7-3.
EAST ST. LOUIS 81, BELLEVILLE WEST 52: At East Side's temporary home gym at Lindenwood University-Belleville, the Flyers opened a big second-quarter lead in going on to the win over West.
The Flyers led from start to finish, holding leads of 18-11, 41-27 and 63-38 after the first three quarters, outscoring the Maroons in the fourth quarter 18-14.
Macaleab Rich led East Side once again, this time with 23 points, while Antwan Robinson added 14 points, Davis Bynum had 11 points, Demarion Brown and D'Necco Rucker both scored nine points each, Dainen Rucker scored seven points, Curtis Bownes and Arlandieous Brown had two points apiece and Jeion Jackson had a single point.
The Flyers are now 7-1, while the Maroons drop to 4-5.
GREENFIELD NORTHWESTERN 61, HARDIN CALHOUN 46: Northwestern broke out to an early lead and didn't look back in taking a Western Illinois Valley Conference tilt at home over Calhoun.
The Tigers led after the first quarter 13-5, then led at halftime 26-19, at three quarter time 41-34 and outscored the Warriors in the fourth quarter 20-13,
Chase Ralston led Calhoun with 17 points, while Conner Longnecker added 14 points, Landon Sievers scored nine points and Cade Sievers came up with six points.
The Warriors are now 1-6 on the season.
In other games played on Friday night, Staunton lost at home to Greenville 55-38, Mascoutah defeated Jersey 51-38, East Alton-Wood River won its backyard rivalry game at Roxana 52-48, Civic Memorial won at Waterloo 46-33, Centralia Christ Our Rock Lutheran won at Metro-East Lutheran 68-34 and Marquette Catholic won at Maryville Christian 63-34. Results for the games between SIUE Charter at Madison, Giillespie at Carlinville, Bunker Hill at Father McGivney Catholic, Steeleville at Valmeyer and Granite City at KIPP Academy of St. Louis were not available at press time.
GIRLS BASKETBALL
In the only game involving an area team on Friday, in the Orchard Farm, Mo. Invitational Tournament, Ursuline Catholic of St. Louis defeated Jersey 44-37.
If you have an item for the Sports Roundup, please E-mail the results and statistics to Dan Brannan at dbrannan@riverbender.com, or you may text the results to (618) 623-5930, and it will be used in that day's Riverbender.com/EdGlenToday.com Sports Roundup. We will accept both high school and junior high school results for the Sports Roundup.
More like this: