| updated November 1 2022 10:40 AM
Listen to this article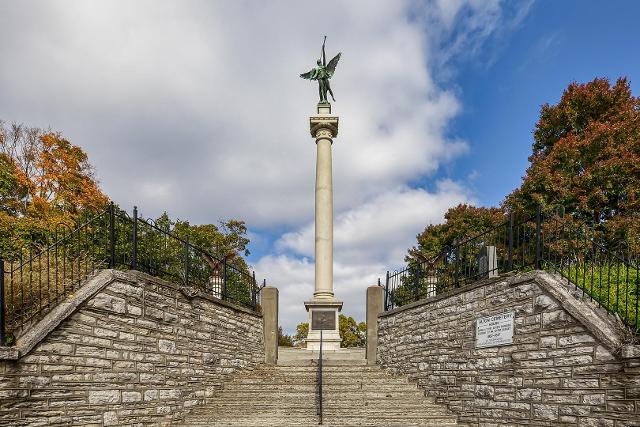 ALTON - The Elijah P. Lovejoy Memorial will sponsor four events in November to help perpetuate the memory of Elijah P. Lovejoy. Please join us and celebrate Lovejoy, a man whose life was taken on November 9, 1837 by a mob while he was defending our rights for freedom of the press and freedom from slavery.
Get The Latest News!
Don't miss our top stories and need-to-know news everyday in your inbox.
Lovejoy Week Music Festival
The Lovejoy Week Music Festival is scheduled for Thursday, November 3rd in the Alton High School Gymnasium at 4200 Humbert Rd. in Godfrey, IL. The doors open at 6:30 p.m. and the program begins at 7:00 p.m. Featured in the program are the East Elementary School Chorus directed by Thora Buis, the Alton Middle School Honor Choir directed by Melissa Sharpe, the Alton High School Symphonic Orchestra directed Laura Plummer, the Alton High School Chamber Singers directed by Leah Galbraith and the Lewis & Clark Community College Jazz Band directed by Tim Jarden.
Lovejoy Day
Lovejoy Day is scheduled for Wednesday, November 9th at the Lovejoy Monument in Alton City Cemetery. The program begins at noon. Amy Golley, Lovejoy Board Member, is the Mistress of Ceremonies. Rev. Peter A. Hough, Pastor of The Alton Mission Church, will offer the Invocation and Benediction. The Alton High School ROTC will present the colors. Katelyn Czarnecki and Meredith Rulo, Alton High School students, will sing "Peace Like a River, Kum ba Yah". Lovejoy Memorial Board President Bonnie Fox and Lovejoy Gravesite Trustee Ed Gray will place a wreath in memory of Elijah P. Lovejoy. Alton Mayor David Goins will read a Proclamation declaring November 9, 2022 as Lovejoy Day.
Article continues after sponsor message
Our speaker is Lacy McDonald, Manager of the Genealogy & Local History Library branch of The Hayner Public Library District. She has been with Hayner since February 2012. Lacy holds a master's degree in Library and Information Science and a Graduate Certificate in Rare Book and Special Collections Librarianship from the University of Illinois at Urbana-Champaign. She grew up in Arkansas and has since lived in Iowa, Minnesota (where she graduated from Carleton College), Florida and several cities in Illinois.
Annual Meeting
Our Annual Meeting will be on Thursday, November 10th in the James M. Bailey Library at Alton High School. We will approve the minutes of the 2021 Annual Meeting. Updated By Laws will be presented for approval. Election of Officers for Vice President, Board Member and Nominating Committee will take place. All reports for Membership, Trust Fund, Treasurer and Scholarship will be a part of the agenda.
Vesper Service
Our Vesper Service honoring the Life & Legacy of Elijah P. Lovejoy will be at the First Presbyterian Church located at the corner of 4th St. & Alby St. in Alton and will begin at 4:00 p.m. Mr. Ray Landis will be the Organist. Lenea DeConcini, Lovejoy Board Member, will lead us in "Call to Worship". Nick Meggos will offer the Invocation and Benediction. Bonnie Fox, President of the Memorial, will present "The Occasion". Ed Gray, Registered Agent/Trustee of the Memorial will offer a challenge for all to consider. The Alton High School Chamber Singers will sing "Sicut Cervus" by Palestrina and "In Remembrance" from Requiem by Eleanor Daley. We will light candles in memory of Rev. Lovejoy, Dr. Margaret Burd Powell, Dr. Rance Thomas, Gloria Parker and Sen. William Haine.
The "Message" will be presented by Rev. Kyle Armentrout-Steward, Senior Pastor of First Presbyterian Church in Alton. Rev. Kyle married his partner Megan in 2020. They recently welcomed their firstborn son, Forrest. They also live with their cat, Minerva. Rev. Kyle received his undergraduate degree in 2009 from SIUE where he studied as a graphic designer. In 2018 he completed his Masters of Divinity. Since then, he has also attended Aquinas Institute of Theology for a graduate level certificate in Spiritual Direction. During this time, Rev Kyle led clean water ministries in Liberia (west Africa), participated in ministries with people experiencing homelessness in Madison and St. Clair counties as well as in St. Louis and served as a part of two new faith community start-ups. Most recently he served as the Associate Pastor of Family Ministries at Main Street UMC and Spiritual Director of Encounter, which is an ecumenical high school ministry that represented 30 different churches and 8 school districts in the greater Alton area.In addition to serving as the Senior Pastor of First Presbyterian Church of Alton, he is also Spiritual Director of the Rainbow House in Edwardsville.
Read More:
Related Video:
"Def Leppard - Pour Some Sugar On Me" now playing on The Eagle, the Riverbend's only Classic Rock station on Riverbender Radio.
Listen on Alexa: "Alexa, play The Eagle on the radio"