January 13 2022 4:33 PM
| updated January 13 2022 5:05 PM
Listen to this article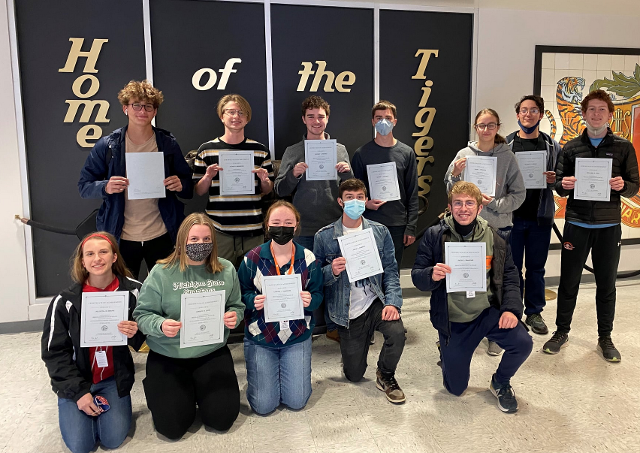 EDWARDSVILLE - Nearly every high school in Illinois competes in the Illinois State Scholars program, identifying and honoring the highest academically performing seniors in high schools around the state. Several area students from Edwardsville High School made the list this year; their names are listed below.
Dr. Steve Stuart, principal of Edwardsville High School, issued the following statement about EHS's Illinois State Scholars:
Get The Latest News!
Don't miss our top stories and need-to-know news everyday in your inbox.
"The students that receive this throughout the state are obviously the best of the best. Universities recognize the importance of this kind of honor and tie in a lot of scholarship money and other awards for the students who have earned it. In years past whenever we had Illinois State Scholar recipients, we had in-person award nights and we recognized these individuals. Over the last couple of years, they were recognized in virtual fashion and at graduation. It is a great honor."
Article continues after sponsor message
Illinois State Scholars from other area schools to come.
The EHS Illinois State Scholars are as follows:
Diego Arana
Mason Babington
Braden Baker
Nathan Beck
Ruben Benjankar
Daniel Benson
Sophia Bertolino
Marcie Billings
Maxwell Brandmeyer
Caroline Byron
Karli Camp
Laine Chapman
Tyler Chrenka
Kate Conner
Ashley Cook
Sean Craig
Trey Dicks
Alyck El-Khatib
Elle Evans
Oliver Ferdinand
Emilie Fry
Emma Garner
Jacob Geisen
John Gingerich
Jacob Grandone
Julia Hantla
Zachary Harmon
Aiden Henke
Liam Hoeferlin
Jaelyn Hudson
Danielle Huene
Sydney Huskey
Olga Ivashyna
Adam Johnson
Justin Jones
Grace Kalb
Luke Karlas
Connor Kielty
Meredith Kremitzki
Ashley Kuethe
Lindsey Lankford
Donovan Latham
Abigail Law
Sydney Lawrence
Benjamin Loftus
Allyson Lunsford
Julietta Marini
Henley Mason
Nicholas McClintock
Grace McGinness
Simon McKean
Alissa Mollett
Kathryn Morgan
Nicole Morris
Rachel Mueller
Edward Noonan
Adrian Norcio
Shaun Pacatte
Rachel Piazza
Reese Pifer
Patrick Rawson
Cole Reinking
Joshua Robinson
Logan Roever
Mera Rusick
Benjamin Schardt
Macy Silvey
Spencer Stearns
Jacob Summers
Alexander Sundar
Hannah Tae
Timothy Tossey
Aidan Underwood
Gabriela Vazquez
Madison Vieth
Michael Voltz
William Voss
Gavin Walls
Jillian Welsh
Michael Whaley
Ryan Whaley
Mitchell White
Elizabeth Wilbraham
Jeffrey Windau
Jenae Wright
Ella Young