Durbin, Rubio Applaud Senate Passage Of Bipartisan Legislation To Extend Authorization Of Global Basic Education
Listen to the story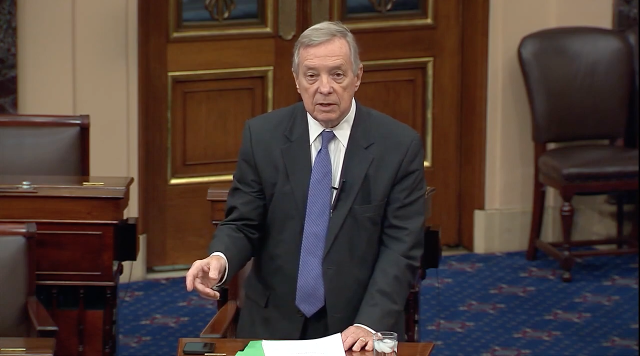 WASHINGTON – U.S. Senate Majority Whip Dick Durbin (D-IL) and U.S. Senator Marco Rubio (R-FL) today applauded Senate passage of their bipartisan legislation to reauthorize the Reinforcing Education Accountability in Development (READ) Act of 2017 for an additional five years. The legislation equitably expands access to basic education for children around the globe.
Get The Latest News!
Don't miss our top stories and need-to-know news everyday in your inbox.
"Given the terrible learning loss around the world due to the COVID-19 pandemic and troubling backsliding on girls education in places such as Afghanistan, reauthorizing the READ Act couldn't come at a more important time," said Durbin. "Doing so will ensure U.S. development programs continue to focus on providing basic education around a sound, long-term strategy – one that includes making sure girls have access to schooling. This legislation has strong bipartisan support, and I'm encouraged that the Senate passed it unanimously. I urge the House to take up our legislation swiftly to ensure education resources are accessible worldwide."
Article continues after sponsor message
"The READ Act of 2017 advanced educational opportunities for children worldwide. With the learning loss caused by COVID-19 and the need to improve literacy and learning, it is important that we re-authorize this bipartisan law. I urge my colleagues in the House to pass this legislation and send to the President for his signature," said Rubio.
There has been tremendous progress in advancing quality basic education around the world since the READ Act was first signed into law five years ago. In 2018, the U.S. Agency for International Development (USAID) released the U.S. Government Strategy (Strategy) on International Basic Education for Fiscal Years 2019-2023, which has since demonstrated the U.S. Government's commitment to international education and leadership on pressing international education challenges. The READ ActReauthorization continues the goal of providing access to education for some of the hundreds of millions of young people who are currently not in school, or who do not have access to education because of conflict or political instability.
The READ Act amends the Foreign Assistance Act of 1961, and states that it shall be the policy of the United States to work with partner countries, other donors, multilateral institutions, the private sector, and nongovernmental and civil society organizations, including faith-based organizations, to promote quality basic education through programs and activities that:
respond to the needs of developing countries to achieve improvements in literacy;
strengthen education systems and expands access to safe learning;
promote education as a foundation for sustained economic growth; and
monitor and evaluate the effectiveness and quality of basic education programs in partner countries.
More like this: