Durbin, Duckworth, Ernst, Booker, Others Urge Biden To Do What He Can To Rescue Hostages
Listen to the story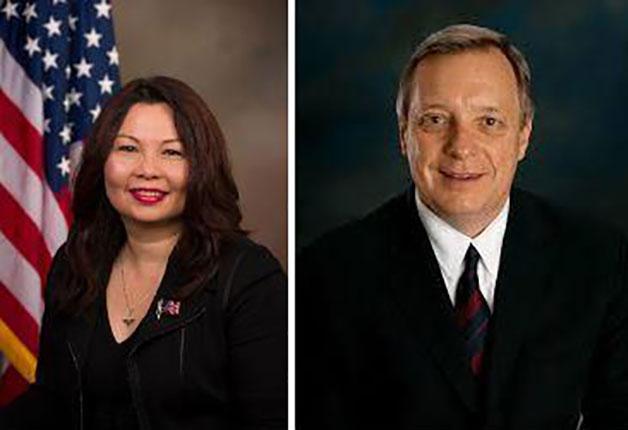 CHICAGO – U.S. Senate Majority Whip Dick Durbin (D-IL), along with U.S. Senators Tammy Duckworth (D-IL), Joni Ernst (R-IA), and Cory Booker (D-NJ), led 45 colleagues in urging President Biden to continue putting his full attention on the freeing of American hostages that were taken by Hamas during the terrorist organization's October 7th attacks on Israel and supporting Israel's efforts to dismantle the threat of Hamas.
In the letter, the lawmakers wrote, "We appreciate that you have sent the U.S. Deputy Special Envoy for Hostage Affairs to Israel to assist in the recovery of the hostages, and we urge you to do everything in your power to secure their safe release. Hamas has already killed 30 Americans and likely injured many more… The terrorists responsible for these atrocities hide behind human shields while they threaten to livestream the execution of hostages. Hamas has also reportedly demanded the mass release of prisoners in exchange for freeing its hostages and could use the hostages to push for a ceasefire. With several U.S. citizens still missing in the aftermath of the terror group's brutal attack, we urge you to continue putting your full attention on the freeing of American hostages. Every day must be treated with a sense of urgency."
Get The Latest News!
Don't miss our top stories and need-to-know news everyday in your inbox.
Article continues after sponsor message
"As a result, we urge the United States to continue supporting Israel's urgent efforts to dismantle the threat of Hamas, provide the necessary resources for Israel's defense, and continue offering whatever support necessary to immediately and safely rescue kidnapped Americans, with particular attention to those who require urgent medical care," the letter continued.
"We urge you to encourage our allies and partners in the region to place pressure on Hamas to allow the International Committee of the Red Cross to have access to the hostages while the United States and Israel work to secure their release," the letter concluded.
Durbin, Duckworth, Ernst, and Booker were joined on the letter by Sens. Ricketts (R-NE), Tuberville (R-AL), Tillis (R-NC), Britt (R-AL), Boozman (R-AK), Barrasso (R-WY), Graham (R-SC), Grassley (R-IA), Capito (R-WV), Cassidy (R-LA), Mullin (R-OK), Scott (R-FL), Wicker (R-MS), Cortez Masto (D-NV), Casey (D-PA), Brown (D-OH), Padilla (D-CA), Coons (D-DE), Klobuchar (D-MN), Tester (D-MO), Smith (D-MN), Shaheen (D-NH), Blumenthal (D-CT), Hagerty (R-TN), Hoeven (R-ND), Murphy (D-CN), Rosen (D-NV), Daines (R-MT), Risch (R-ID), Cornyn (R-TX), Gillibrand (D-NY), Baldwin (D-WI), Bennet (D-CO), Sullivan (R-AK), Lankford (R-OK), Warner (D-VA), Schatz (D-HI), Van Hollen (D-MD), Kelly (D-AZ), Whitehouse (D-RI), Cramer (R-ND), and Budd (R-NC).
More like this: