Duckworth calls for economic justice, criminal justice reform at NAACP National Convention
Listen to the story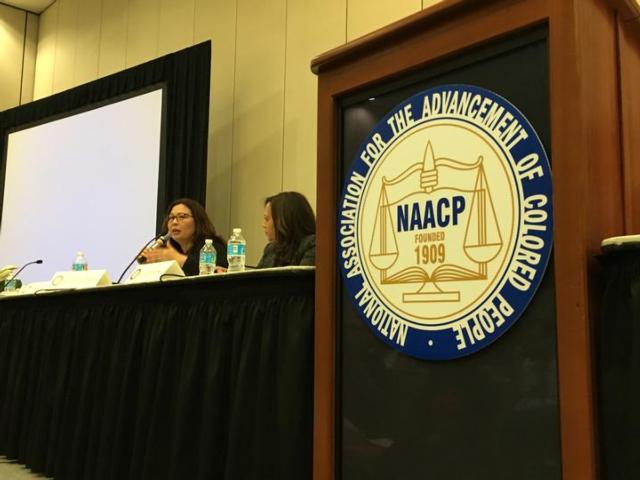 BALTIMORE, MD — Today, U.S. Senator Tammy Duckworth (D-IL) spoke about the need for economic justice and criminal justice reform across the nation during her remarks at the 108th Annual NAACP National Convention's legislative panel. Duckworth highlighted the importance of supporting minority-owned businesses, making education more accessible as well as affordable and restoring trust between law enforcement and the communities they protect.
Get The Latest News!
Don't miss our top stories and need-to-know news everyday in your inbox.
"It's about time we made a serious investment in communities that have been ignored for too long to help ensure every American has the same opportunity to get a quality education, earn a decent living and create a life for their children that is better than their own," said Duckworth. "I was only able to go to college and become a helicopter pilot with the help of Pell Grants, student loans and a heck of a lot of waitressing, so I understand how important programs like these are for the success of our families and our nation. I will continue to do my part in the Senate to expand economic opportunity for every American, no matter where they're from."
Article continues after sponsor message
Duckworth has been a strong advocate for criminal justice reform, including comprehensive sentencing reform, "ban the box" initiatives and federal investments in additional training for law enforcement. Just last week Duckworth reintroduced the Video Visitation and Inmate Calling in Prisons Act of 2017 to improve the nation's criminal justice system by helping families keep in touch with incarcerated family members – something studies have shown can help reduce recidivism rates and thereby save taxpayer dollars. In April, she introduced the Police Training and Independent Review Act to help prevent police-involved deaths and encourage independent and impartial investigations into law enforcement officials' use of deadly force.
"In order to move towards economic justice, we also need to reform our criminal justice system," continued Duckworth. "That means we need to restore trust between law enforcement and local communities, while also working to improve our prison system and reduce recidivism. That's why my Video Visitation and Inmate Calling in Prisons Act is so important – it helps enhance rehabilitation and improves the odds that former prisoners are able to become productive members of society upon their release."
As a member of the Senate Committee on Small Business and Entrepreneurship, Duckworth is also working in the Senate to expand economic opportunity and revitalize economies in communities around the state that have been ignored by many for too long. By working to increase investments in infrastructure, education programs and minority- and women-owned businesses, Duckworth seeks to support working families across Illinois, increase access to jobs and help provide community wealth that will stabilize neighborhoods struggling for a brighter future.
Today's panel also included Senators Ben Cardin (D-MD), Bernie Sanders (I-VT) and Kamala Harris (D-CA), as well as Representatives Bobby Scott (D-VA), Sheila Jackson Lee (D-TX), Robin Kelly (D-IL), Nanette Barragán (D-CA) and Scott Taylor (R-VA).
More like this: