Cory Huechert Recognized For Courageous Actions During Fatal I-55 Multi-Vehicle Crash
August 1, 2023 8:48 PM
August 2, 2023 8:54 AM
Listen to the story
EDWARDSVILLE - Cory Huechert with the Madison County Emergency Management Agency (EMA) was recognized at the Edwardsville City Council meeting on Tuesday for his courageous actions during a fatal multi-vehicle crash on Interstate 55 in May which left eight dead and several more injured.
Get The Latest News!
Don't miss our top stories and need-to-know news everyday in your inbox.
Madison County EMA Director Fred Patterson submitted Huechert's name for recognition and spoke highly of his actions at the meeting. He recalled the "unique" dusty conditions of the crash site.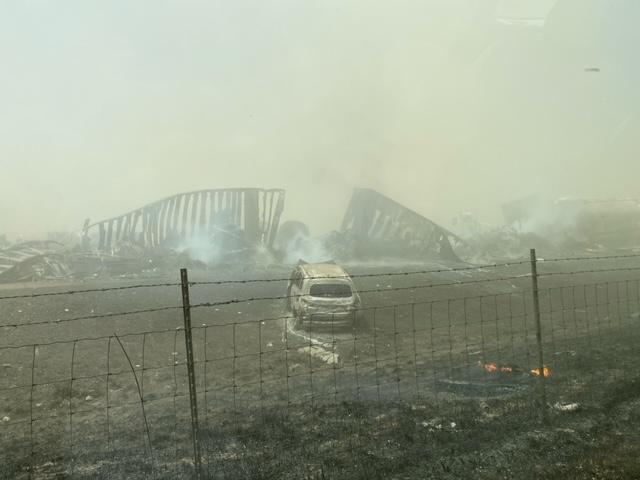 "Unless you [were] there, it was remarkable. The dust at the scene, I'm sure he'll have memories of that just like I do. I've seen a lot, and it was unique, no question. His skillset was amazing, his demeanor on scene was amazing," Patterson said of Huechert. He then read the official letter of recognition from Madison County EMA, which read as follows:
"Madison County appreciates your efforts on May 1, 2023 as part of the Emergency Management Agency Team in response to a multi-vehicle fatal crash on Interstate 55 in Montgomery County. As part of the EMA Team, your efforts during and after the crash utilizing the county's resources exemplifies the EMA mission to provide excellence in public service. Thank you for your dedication, desire, and teamwork in assisting others."
According to previous reporting from Riverbender.com, the crash on I-55 began at "approximately 10:55 a.m. on both northbound and southbound Interstate 55, between mile markers 72 and 78 near Farmersville in Montgomery County." In total, 72 vehicles were involved in the crash and 37 people were "transported to area hospitals with injuries ranging from minor to critical," in addition to eight fatalities which were announced in the days following the crash.
Article continues after sponsor message
Edwardsville Fire Chief James Whiteford also read a letter from the Illinois General Assembly addressed to Huechert, which read as follows:
"It's been brought to our attention that you were part of a response team that was activated during the Interstate I-55 disaster on Monday, May 1, 2023. We commend you for the dedication and courage that you displayed. Your work helped save lives and provided emergency assistance to those who needed it in a very difficult situation. We want you to know how grateful we are for every ounce of effort you put into performing your duties that day. You have our utmost appreciation and respect."
State Representatives Steve McClure of the 54th District, Erica Harris of the 56th District, Jill Tracey of the 50th District, and Jason Plummer of the 55th District all signed the letter from the Illinois General Assembly. State Representative Amy Elik of the 111th District wrote another letter commending Huechert for his actions:
"I'm writing this letter to express my deep appreciation of your quick response to the I-55 crash that took place on May 1. You went above and beyond to respond to an incident outside of your jurisdiction. I appreciate you braving the piercing winds, overwhelming dust, limited visibility, along with mass casualties. Your professionalism, expertise, courage, and prompt response no doubt helped manage this incident where hundreds of lives were at risk, and even more were counting on you to bring some sense of organization among the chaos. Thank you for working with the appropriate agencies to get the job done. Your work has not gone unnoticed and I appreciate all the work you do daily to enhance the readiness for future incidents."
Chief Whiteford added that Huechert has also served on the Fire Department for 22 years. Whiteford said Huechert has been a "hardcore Fire Department enthusiast as long as I've known him, and a good guy, too." He added that several fire departments around Madison County depend on Huechert's "radio expertise."
A full recording from the August 1 City Council meeting is available at the top of this story or on the City of Edwardsville Facebook page.
More like this: