Beautiful weather greets Mud Mountain runners
July 30, 2017 8:11 AM
July 30, 2017 7:03 PM
Listen to the story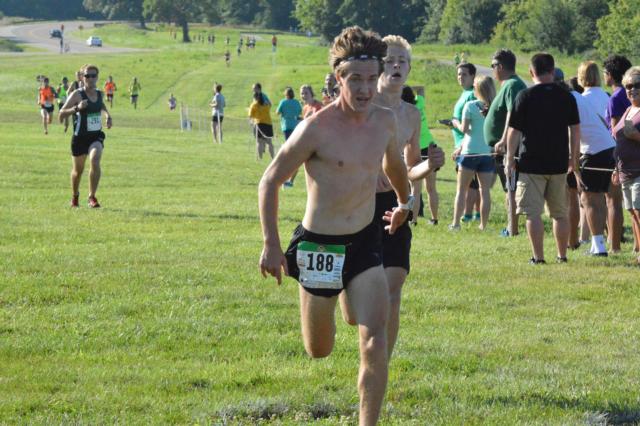 Get The Latest News!
Don't miss our top stories and need-to-know news everyday in your inbox.
EDWARDSVILLE – Beautiful weather and near-perfect temperatures and humidity greeted runners Saturday morning to the 22nd Mud Mountain Run, a fund-raiser for the Edwardsville High School cross-country and track programs and the programs at Liberty and Lincoln middle schools in Edwardsville, at SIU-Edwardsville's cross-country course.
Close to 400 runners took part in the event, which was won by Granite City's Andrew O'Keefe and Belleville's Hannah Inyart, which is named for a hill on the course that's covered by trees and can get muddy in wet weather. The races were a five-kilometer (3.1 mile) race and a one-mile fun run.
"Honestly, I can't remember a better day than this (weather-wise)," said Tiger cross country coach George Patrylak. "From a race standpoint, I know it's always a positive when you don't have to worry about some of those heat-related kind of injuries, but it was a beautiful day and a solid turnout – I think we had 370-some register, so I'm assuming we'll be right at the 350 mark finishing the race today."
One highlight of the race is the number of Tiger alumni who came back to help the program out. "There's a lot of faces that we haven't seen in quite a few years," Patrylak said. "That's a great thing about the event – you never know who's going to show up; a lot of memories, even some of the runners - for example, Dane Shaw lives in Texas now and he came up (to take part), and I know I didn't have the opportunity to coach Dane, but I was joking around with him that when I saw the age was all of 33 – it makes me realize how fortunate we are we still have such a tight-knit group."
Here are the results from Saturday's Mud Mountain 5K run, held at the SIU-Edwardsville cross-country course.
MEN OVERALL – TOP 15
Andrew O'Keefe, Granite City (16:37.73); Ben Richter, Troy (16:44.32); Eric Johannigmeier, Edwardsville (16:52.07); Will McLemore, no hometown listed (16:52.68); Roland Prenzler, Edwardsville (17:05.23); Jack Pfier, Edwardsville (17:05.74); Aaron Werths, Granite City (17:09.36); Michael Mendez, no hometown listed (17:15.10); Dane Shaw, Edwardsville (17.16.69); Dustin Davis, Worden (17:17.93); Ethan DuClos, Red Bud (17:20.53); Zach Waters, Edwardsville (17:24.48); Joe Shannon, Edwardsville (17:30.96); Justin Wieduwill, Collinsville (17:31.24); Will O'Keefe, Granite City (17:42.25)
WOMEN OVERALL – TOP 15
Hannah Inyart, Belleville (19:14.91); Quincy McSweeney, no hometown listed (19:43.36); Allie Sweatt, Edwardsville (19:44.98); Abby Schrobligen, Edwardsville (19:45.27); Abigail Richter, Troy (19:50.07); Abby Korak, Edwardsville (19:59.18); Danielle Bohannon, no hometown listed (20:02.98); Emiley England, no hometown listed (20:04.44); Melissa Spencer, no hometown listed (20:13.06); Lydia Roller, Staunton (20:15.41); Katelyn Singh, no hometown listed (20:16.00); Payton Ali, no hometown listed (20:57.51); Jaycie Hudson, Edwardsville (21:00.14); Victoria Vegher, Edwardsville (21:05.90); Karis Johnson, no hometown listed (21:17.84)
Article continues after sponsor message
AGE GROUP WINNERS
MEN
Under-11: Charlie Gentemann, Marine (21:37.34); 12-13: Wyatt Erber, Edwardsville (19:44.86); 14-15: Pifer; 16-18: Prenzler; 19-24: McLemore; 25-29: Werths; 30-34: Shaw; 35-39: Wideuwill; 40-44: Bill Sass, Mesa, Ariz. (20:14.15); 45-49: James Baca, St. Louis (20:26.41); 50-54: Robert Montani, no hometown listed (22:03.06); 55-59: Mark Bradley, Edwardsville (24:41.80); 60-Over: Jeff Hoyt, Collinsville (24:05.41)
WOMEN
Under-11: Sydney Chong, Edwardsville (26:24.73); 12-13: Kayla Wilson, Eureka, Mo. (22:45.33); 14-15: Korak; 16-18: Schrobilgen; 19-24: Richter: 25-29: Miranda Willi, no hometown listed (23:19.41); 30-34: Amy Wendler, Edwardsville (30:03.08) 35-39: Terra Sleep, Edwardsville (26:23.15); 40-44: Kathryn Range, Edwardsville (26:14.12); 45-49: Roxanne Patrylak, no hometown listed (21:40.41); 50-54: Rebecca Bradley, Edwardsville (22:22.55); 55-59: Debbie Corkery, no hometown listed (33:36.36); 60-over: Becky Elfrink, Fenton, Mo. (35:03.93)
TEAM COMPETITON – TOP 5 TEAMS
MEN
Elite Eight Tiger Legends, 35 (Top 4 times, 1:08;57.67); RunWell, 88 (Top 4 times, 1:13:09.19); GC Sasquatch, 125 (Top 4 times, 1;14.49.04); Best Pace Scenario, 134 (Top 4 times, 1:14:48.72); Class of 2017 Elite Eight, 282 (Top 4 times, 1:24:00.59)
WOMEN
Ma Doods, 198 (Top 4 times, 1:20:01.95); Track Catz, 231 (Top 4 times, 1:21:13.62); Elite Eight Women, 260 (Top 4 times, 1:22:38.58); Elite (Class of) 18, 427 (Top 4 times, 1:29:46.82); Gillians Graphics, 906 (Top 4 times, 1:57:36.99)
More like this: