Zelma Eileen "Clancy" Clothier
Dow | Wednesday, December 22 2010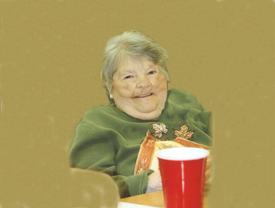 Zelma Eileen "Clancy" Clothier, 83, died at 1:30 p.m. Wednesday, December 22, 2010 at Jerseyville Manor Nursing Home.

She was born in White Hall on May 21, 1927, the last surviving of six children born to the late Willis Clay & Cecil Mae (Shaw) Hardwick. She began working as a young girl at the sewing factory in White Hall, and after her marriage began working at the Nugent & Schapanski Orchard in Grafton. She was a cook for many years at Pere Marquette State Park in Grafton, and later worked at Just My Desserts in Alton, and served as a hostess at the Grafton Visitors Center. She married Carl Leo Clothier on Oct. 31, 1945 in Carrollton, and he preceded her in death on Jan. 10, 1999.

Surviving are four daughters & sons in law, JoAnn & Robert Goheen of Dow, Cecil Carlene & William Klein of Grafton, Rose & Kenny Hallstead III of Jerseyville, Paula & Ernie McKenney of Kane; five sons & daughters in law, Bruce & Paula Clothier, Andy & Terri Clothier all of Jerseyville, Robert & Debbie Clothier of Hardin, Edgar & Denise Clothier of Granite City, and Chris Clothier, and his companion, Tina Grether of Jerseyville; She was Grandma Shorty to 19 Grandchildren, 18 Great Grandchildren; and one great great grandson. She is also survived by her sisters in law, Dixie Hardwick, Lena Story, and her husband Roy, Agnes Bizaillion and Alberta Clothier all of Jerseyville; and many neices and nephews.

She was preceded in death by her parents, husband, and infant great granddaughter, Alison Marie Rapp; three brothers, Joseph, Delbert, and Paul Hardwick; and two sisters, Nina Smith & Bessie Kochesperger.
Visitation will be from 2 to 6 p.m. Sunday at the Crawford Funeral Home in Jerseyville, where funeral services will be conducted at 10 a.m. Monday with Rev. Wilbur Cain.

She will be laid to rest alongside her husband at the Kane Cemetery.

Memorials may be given to the Jersey Community Hospital Emergency Room Expansion project.