William Edward 'Bill' Patterson, Jr
East Alton | Wednesday, September 3 2014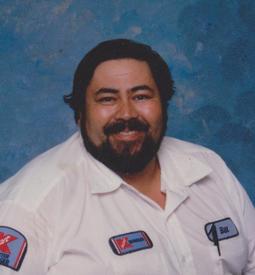 William Edward 'Bill' Patterson, Jr., 63, went to be with his Lord and Savior at 5:31 p.m. Wednesday, September 3, 2014 at Anderson Hospital in Maryville, with his family near his side.
Born in Cairo, IL on August 9, 1951, he was the son of William E., Sr. and Carmen (Apodaca) Patterson.
A devoted christian man, Bill always wanted people to see Christ thru him and others around him. He enjoyed fishing and being outdoors, but especially loved the time he was able to spend with his grandchildren.
He had been employed as a mechanic and shop manager for the Penske Auto Centers at K-Mart in Wood River.
He married the former Marianne White on June 23, 1984 in Alton. She died November 12, 2005.
Surviving are three daughters, Lori (Jeff) Hastings of Brighton, Carrie Patterson of Alton, Kelly Holmes of Jerseyville; eight grandchildren, Kierra, Jada, Austin, Jessica, Alex, Mikey, Cortney and Caitlyn; brother, Michael "Leo" Patterson of Tulsa, OK; four sisters, Marilyn (Dave) Cordio of Peoria, Nettie (Cliff) Martin of Wanda, Mary Ann (Rick) Warmack of Alton, Patsy Lintner of Maplewood, MO; several nieces and nephews.
Preceding him in death were his parents; wife; sister, Kay Robinson; and brother-in-law, Kirby Lintner.
Visitation will be from 10 a.m. until time of service at 1 p.m. Saturday at Marks Mortuary in Wood River. Rev. Joe Dunnigan will officiate.
Memorials may be made to The Well Worship Center, 212 E. Elm St, Alton, IL