Wilbur "Wib" G. Spalding
Bethalto | Wednesday, August 27 2014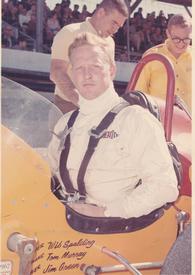 Wilbur "Wib" G. Spalding, 81, went to be with the Lord at 9:05 am Wednesday, August 27, 2014 at his home, under the care of BJC Hospice.
He was born on August 26, 1933 in Granite City, IL, the son of Earl and Gertrude Mae (Stearns) Spalding.
He married Rosa Lee Emery. She preceded him in death. He married Mary Etta (Hodge) Dreith on September 21, 1990 at the Bethalto United Methodist Church. She survives.
Wilbur was the owner/operator of Godfrey Speedway from 1978 until 1991 and he worked for Capenters Local 633 out of Granite City. He was a member of Cornerstone Assembly of God Church in Bethalto. He was inducted in the Granite City Sports Hall of Fame and he raced all over the United States. He won thirty four track championships, four 150 lap features, three 200 lap features, one 300 lap feature, two track records at Oswego, NY, a USAC Sprint Race at Salem, IN and a 50 mike Duquoin, IL Race. In all types of racing has had over 600 feature wins. He placed 8th in a 200 lap Indy car race at Trenton, NJ in 1968
In addition to his wife, he is survived by his children and spouses, Terry Lee and Nancy Spalding of Godfrey, Tina and Danny Tyler of Granite City, Earl and Laura Spalding of Alton; his stepchildren and their spouses, Michael and Carol Dreith of Murphysboro, Il and Barbara and Bill Watson of Bethalto; thirteen grandchildren; several great grandchildren; two brothers and a sister-in-law, Leland and Jean Spalding of Wichita, KS and Kenneth Spalding of Granite City.
He was preceded in death by his parents, Earl and Gertrude Mae (Stearns) Spalding, first wife, and two daughters, Connie Mroz and Gayle Spalding.
Visitation will be from 9 am until services at 12:00 Noon Saturday, August 30, 2014 at Cornerstone Assembly of God Church in Bethalto.
Burial will be at Sunset Hills Cemetery in Edwardsville.
Memorials may be made to Cornerstone Church.
Online Condolences and guest book may be found at www.eliaskallalandschaaf.com