Vernon C. Kessinger
Brighton | Wednesday, August 27 2014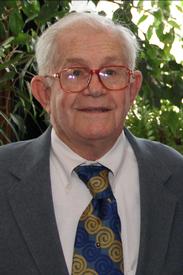 BRIGHTON- Vernon C. Kessinger, 90, died suddenly at 5:36 p.m., Wednesday, August 27, 2014 in Alton.
He was born in Hartford, IL. on March 31, 1924, one of nine children born to the late John R. & Frances (Cosby) Kessinger.
Coming from a large family, Vernon learned early on the value of hard work and dedication to family. He served his country during World War II with the U.S. Navy, and retired after many years of service as an electrician from Laclede Steel Company in Alton.
Vernon was an avid St. Louis Cardinals fan. He enjoyed golfing and traveling with his wife, domestically and abroad.
He married the former Ruth Delores Pollard on Dec. 23, 1950 in Alton, and they have shared 63 years together and the joys that come from raising of family of six children and being blessed with many grandchildren.
Surviving are his wife, Ruth Kessinger; six children & their spouses, Steve & Carolyn Kessinger of Newmarket, NH, Bob & Debbie Kessinger of Brighton, Paula & Dave Hansen of Jerseyville, Brent & Jan Kessinger of Brighton, Cheri & Ronny Johnson of Medora, and Becky & Karl Schmid of Brighton; 15 Grandchildren & their spouses, Shannon & Grant Carter of Kensington, NH, Chad Kessinger, and his fiancée Jessica Bellavance of Portsmouth, NH., Erin & Ben Shewmaker of Alton, Josh Kessinger of St. Louis, Katie & Scott Curry of Godfrey, Beth & Jason Arrowsmith of Godfrey, Ryan & Kayla Hansen of Godfrey, Tara Hansen of Jerseyville, Connor & Samantha Kessinger of Brighton, Nick Kessinger of Brighton, Cody Johnson of Medora, Gracie Johnson of Medora, Lindsey Schmid of Alton, Drew & Allison Schmid of Spanaway, WA, and Kersten & Stephen Lapointe of Aberdeen, NC; 14 Great Grandchildren; one sister, Margie Kessinger of Dow.
In addition to his parents, he was preceded in death by four brothers, Joseph, Chris, Floyd & Walter Kessinger; and three sisters, Anna Mae Kessinger, Olive Kessinger, and an infant sister, Elsie Kessinger.
Visitation will be from 4 to 8 p.m., Sunday at the Crawford Funeral Home in Jerseyville, where funeral services will be conducted at 10 a.m. Monday.
Burial will be in the Brighton Cemetery.
Memorials may be given to the Alzheimer's Association in care of the funeral home