Tina K. Budd
Chesterfield, MO | Thursday, July 10 2014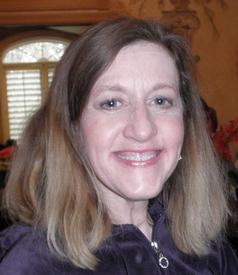 On 10 July 2014, Tina K. Budd age 53, loving wife, mother, and daughter died unexpectedly and suddenly of a brain aneurysm while vacationing at Disney World in Orlando with her husband, Dr. William Budd and daughter, Lauren.
Tina was born on January 27, 1961 at St. Joseph's Hospital in Alton and married Dr. William "Bill" Budd on September 15, 1989 at St. Ambrose Church in Godfrey. Their daughter Lauren Marie, born on May 27, 1995, currently is a sophomore at Case Western Reserve University in Cleveland.
Following graduation from Marquette Catholic High School, Tina attended classes at SIU-Edwardsville and later graduated from Lewis & Clark College, School of Nursing. She worked as a nurse at St. Anthony's Hospital before relocating to Chesterfield, Mo. for her husband's practice and worked at various St. Louis banks.
Tina loved children, enjoyed shopping, beading (making jewelry), listening to music and spending time with her family and friends. During high school, Tina was considered the No. 1 "most favored baby sitter" for the RiverAire subdivision in Godfrey.
Tina is survived by her husband Bill and daughter Lauren of Chesterfield, MO; parents Dee and Jerry Lavick of Godfrey; two sisters and brothers-in law; Vicky & Bruno Dosso of Alton and Tracy & Ken Reilly of St. Petersburg, FL; brother Jay & Kelly Lavick of Glen Carbon, IL; and nieces and nephews Kateland Harte, Joe Reilly, Josh & Rachel Lavick, Natalie, Sammi and Scott Dosso.
Visitation will be from 9:30 am until time of memorial Mass at 11 am on Friday, July 18, 2014, at St. Ambrose Catholic Church in Godfrey, IL with Father Steve Pohlman officiating.
Burial will follow at St. Patrick's Cemetery in Godfrey.
Memorials may be made to St. Ambrose Catholic Church Organ Fund.
Elias, Kallal, and Schaaf Funeral Home in Godfrey, IL will be in charge of arrangements.
Online condolences and guest book may be found at www.eliaskallalandschaaf.com