Ralph W. "Buddy" Butler, Jr.
Jerseyville | Sunday, June 15 2014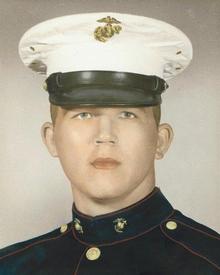 DATELINE: Jerseyville
NAME: Ralph W. "Buddy" Butler, Jr.
AGE: 75
DIED: Went home to with his Lord at 1:30 p.m. Sunday June 15, 2014 at Alton Memorial Hospital
BORN: December 15, 1938 in Louisiana, MO.
PARENTS: Ralph & Irene S. (Rue) Butler (Both Deceased)
MARRIED: December 3, 1960 to his loving wife Nancy Winters
OCCUPATION: Worked at Alton Box Board from 1960-1966, Glass Works 1966-1977 and Shell Oil from 1978-1999 when he retired. Buddy graduated fron Alton Sr. High School in 1957 and went on to serve in the United State Marine Corp from 1957-1960 and then was transferred to the Marine Corp Reserve and has been a member of The Marine Corp League.
Buddy and Nancy have been members of Moose Lodge of Alton, Eagles Lodge of Alton and The Sportsman Club in Alton over the years. Buddy enjoyed spending time with family, bowling, hunting and fishing.
VISITATION: 3-6 p.m. Friday June 20, 2014
At Alexander & Gubser Funeral Home
CELEBRATION OF LIFE: 6:00 p.m. Friday June 20, 2014
At Alexander & Gubser Funeral Home in Jerseyville
Military Funeral Rites by Jerseyville American Legion Post #492
CLERGY: Rev. Clyde Myers
BURIAL: Camp Butler National Cemetery in Springfield, IL. at a later date
MEMORIALS: In Lieu of Flowers, Wounded Marie Fund or Charity of One's Choice
SURVIVORS
WIFE:Nancy C. Butler of Jerseyville
SISTERS: Dixie Crane, Carol & her Husband Lyman Stilts, Kay Coleman
SISTER-IN-LAW: Brenda and her Husband Larry Beanblossom
MANY NIECES AND NEPHEWS
PRECEDED IN DEATH BY: Parents, Brother-in Law: David Crane
ALEXANDER & GUBSER FUNERAL HOME
IN CHARGE OF ARRANGEMENTS