Paul Lewis Walters
Alton | Tuesday, August 12 2014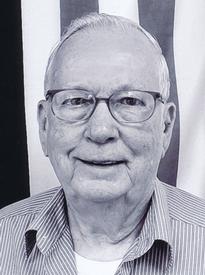 Paul Lewis Walters, 86, passed away at 12:26 pm Tuesday, August 12, 2014 at St. Anthony's Hospital in Alton.
He was born on July 18, 1928 in Alton, IL, the son of the George and Henrietta (Maxeiner) Walters.
He married Betty Lou Struebel on February 8, 1957. She preceded him in death in December 1996.
He proudly served his country in the U.S. Army during the Korean War. He was a staff sergeant in the 20th engineer combat battalion 45th division. He received an occupation medal, Korean service medal with three campaign bronze stars. He was a lifetime member of the Wood River VFW Post 2859. He worked 36 years for the Madison County Highway Department as a maintenance supervisor and retired in 1986. He was a member of the Bethalto United Presbyterian Church, the Alton VFW Post #1308 and Odd Fellows. He loved to travel out West to Colorado and Yellowstone Park, fish, hunt, especially deer. He had many fond memories of his duck hunting friends. He enjoyed attending area wrestling meets, especially watching CMHS Eagles for over 50 years.
He is survived by two daughters and a son-in-law, Paula Dobson of Moro and Peggy S. and Dennis Waggoner of Terre Haute, IN and four grandchildren, Joseph Sanders, Jason Dawson, Axel Dobson and Abby Dobson.
In addition to his parents and wife, he was preceded in death by a sister, Dorothy Greiner and a brother, Jim "Bucky" Walters.
Paul's grandson Joe Sanders lived with Paul. After a number of years Joe seemed like a son to him. They became very close to each other. There were hugs and "I love you" every day. Paul worried when he died how Joe would take it, as he loved Paul so much.
Visitation will be from 2 to 6 pm on Sunday, August 17, 2014 at Elias, Kallal & Schaaf Funeral Home in Bethalto.
Funeral services will be at 11:00 am Monday, August 18, 2014 at Elias, Kallal & Schaaf Funeral Home in Bethalto with Pastor Jerry Wray officiating.
Burial will follow at Brighton City Cemetery with military rites being performed by the Alton VFW Post 1308.
Memorials may be made to Joe Sanders or Gideon International.
An online condolence and guest book may be found at www.eliaskallalandschaaf.com.