Joseph John Wickenhauser, Jr
Alton | Thursday, June 26 2014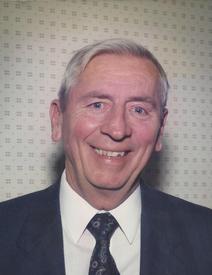 Joseph John Wickenhauser, Jr., 90, died at 9:00 a.m. Thursday, June 26, 2014 at Alton Memorial Hospital. Born June 23, 1924 in Alton, he was the son of Joseph J. and Margaret G. (Dixon) Wickenhauser Sr. He served in the U.S. Navy during WWII and was a member of St. Mary's Catholic Church in Alton. Mr. Wickenhauser owned and operated Wick Reality. He developed three subdivisions in the Alton/Godfrey area building numerous homes. He was on the Board of Directors for the First National Bank and Mercantile Bank for 30 years. On October 27, 1944 he married "Tex" Babb. She preceded him in death on April 7, 1990.
He married Nancy on September 6, 1991. She survives. Also surviving is a daughter, Del Swiatkowski (Jeff) of Brighton, four sons, John Wickenhauser (Gill) of Godfrey, Charles Wickenhauser (Norma) of Kerrville, TX, David Wickenhauser of Godfrey, Dan Wickenhauser (Jan) of Brighton, and his foster son, Jerry Ruckman (Pam) of Godfrey, numerous grandchildren, great grandchildren, and great-great grandchildren, three brothers, Richard Wickenhauser of Alton, James Wickenhauser of Godfrey, and Father Jerry Wickenhauser of Godfrey.
Along with his parents and first wife, he was preceded in death by two brothers, Edward and Gene Wickenhauser.
Visitation will be from 5:00-7:00 p.m. Monday, June 30, 2014 at Gent Funeral Home in Alton where funeral services will be at 10:00 a.m. Tuesday, July 1, 2014. Father Jerry Wickenhauser will officiate. Burial will be at St. Patrick's Cemetery in Godfrey.
In lieu of flowers, memorials may be made to St. Mary's Catholic Church in Alton or the Maryknoll Sisters, Box 312, Maryknoll, New York 10545-0312 online guestbook and information may be found at www.gentfuneralhome.com