John Robert O'Shea
Godfrey | Sunday, August 3 2014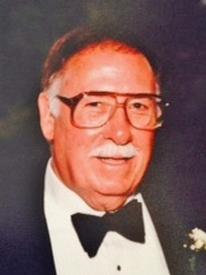 John Robert O'Shea, 88, of Godfrey, IL, died at 10:25 p.m. Sun. Aug. 3, 2014 at Willow Rose Nursing Home in Jerseyville, IL.
He was born Jan. 5, 1926 in Springfield, IL and was the son of James F. & Mae O'Shea.
John was a WWII US Navy veteran. He was also an artist and radio broadcaster. He retired from Horace Mann Educators Insurance as Vice-President of Public Relations. Most recently he was a broadcaster with WTAX and had a Big Band music program, "Brunch with John - On the Positive Side". He was a very active community volunteer and served on numerous boards with many organizations.
Survivors include: 2 sons and daughters-in-law, Michael & Debbie O'Shea of San Antonio, TX and John Patrick & Sarah O'Shea of Springfield, IL, 3 daughters and a son-in-law, Jeanne O'Shea of Springfield, IL and Jill & Terry Lane and Ann Neighbors of Godfrey, IL, 12 grandchildren and 7 great-grandchildren.
Besides his parents, he was preceded in death by his wife, Cricket (Daugherty) O'Shea, a brother and 3 sisters.
Memorial Gathering: Family will receive friends from 5:00 p.m. – 7:30 p.m. on Friday, August 8, 2014 at Kirlin-Egan and Butler Funeral Home, 900 S. 6th St., Springfield, IL. The memorial gathering will begin with a prayer service.
The family will also hold a memorial service on Wednesday, August 13 from 4-6 p.m. at the Chapel on the Lewis and Clark Community College campus.
In lieu of flowers, memorials may be made to BJC Hospice.
Arrangements through Paynic Home for Funerals, with online guestbook and information at www.paynicfh.com
Condolences may also be offered at www.butlerfuneralhomes.com