Jayden Nicole Kirksey
East Alton | Wednesday, March 12 2014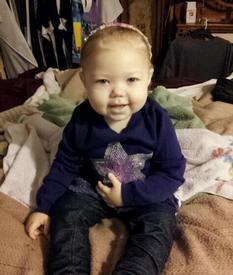 Jayden Nicole Kirksey, 22 months, passed away on Wednesday, March 12, 2014, at her residence. She was born on April 24, 2012, in Alton, the daughter of Paul Kirksey of Wood River and Sylvia Rogers and Darrell Smith IIIas of East Alton and they both survive. Other survivors include one brother: Joseph Frazier of East Alton, her maternal grandparents: Glen Rogers of Godfrey, Audrey Stewart of Wood River, her paternal grandparents: Debra and Rick Kelley of Roxana, Ronald and Lisa Kirksey of Godfrey, her maternal great – grandparents: Glen and Sandra Rogers Sr. of Godfrey, Woodrow and Sharon Stewart of Arizona, her paternal great – grandma: Marilyn Law of Wood River.
She was preceded in death by her paternal great – grandpa Mike McClellan and her paternal great grandma Mary Nordback.
In celebration of her life, visitation will be from 2pm to 6pm on Sunday, March 16, 2014, at Pitchford Funeral Home in Wood River. Funeral services will be held at 10am on Monday, March 17, 2014, at the funeral home. Rev. Tim Naylor will officiate. Burial will follow at Rose Lawn Memory Gardens in Bethalto.
Memorials are suggested to the Cerebral Palsy Foundation and will be accepted at the funeral home.
Online guestbook available at www.pitchfordfuneralhome.com.