Jacqueline (Jackie) Ann House Wittman
Godfrey | Tuesday, July 1 2014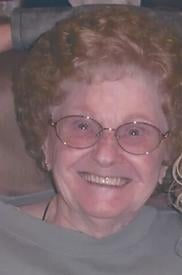 Jacqueline (Jackie) Ann House Wittman, 90, passed away at 3:00 p.m. on Tuesday, July 1, 2014, at Barnes-Jewish Hospital in St. Louis, MO.
She was born on February 20, 1924 in Jerseyville, IL to Nona and Harry House. She married E. William (Bill) Wittman on June 7, 1947, who preceded her in death on September 1, 1992. The couple had 3 children, David, Daniel, and Debra. Mrs. Wittman was a marriage license clerk for Madison County from 1963-1991.
She was also preceded in death by her siblings, Leavetta "Skeeter" Wimmersburg, Victoria "Tori" Grimma, Virginia "Ginny" Horn, Robert "Bob" House, Maxine "Mackey" Boedecker, Harry "Sonny" House, and Joanne "JoJo" Murray, and her best friends, Shirley and Wilbur "Smokey" Bierbaum.
Jacqueline is survived by her twin sons, David / wife, Henrietta (of Godfrey), Daniel (of Bridgeton, NJ), and Debra (of Union, MO). Eight grandchildren David Jr. (of Godfrey), Michael, and Holly Thornton (both of Alton), Daniel Jr., Gina Mondile, and John (all of Bridgeton, NJ), Marcia Briggs (of Wildwood, MO), and Benjamin Butler (of Union, MO). And Seven great grandchildren, Cecilia Butler (of Union, MO), Kayla and Kelsy Wittman (of Godfrey, IL), Christian and Josselyn (of Wildwood, MO), Anthony Mondile (of Bridgeton, NJ), and Zachary Thornton (of Alton, IL).
The family expresses a thank you to the staff of Barnes-Jewish Hospital and to Jerseyville Nursing and Rehab for their tender care and respectful attention to Jackie, who was well known and loved by all, making her final days as comfortable as possible.
Visitation will be from 9:30 a.m. until time of funeral mass at 11:30 a.m. on Monday, July 7, 2014 at St. Ambrose Catholic Church in Godfrey, IL. Her burial will follow the mass at the St. Patrick's Cemetery in Godfrey, IL.
There will be a luncheon immediately after her burial at the St. Ambrose Community Hall.
Memorials can be made to the St. Ambrose Catholic Church.
Gent Funeral Home in Alton, IL is in charge of the arrangements. Online guestbook and information may be found at www.gentfuneralhome.com