Emma F. Barton
Hartford | Saturday, March 1 2014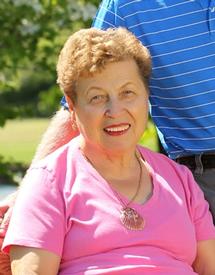 Emma F. Barton, 75, passed away at 8:30am on Saturday, March 1, 2014, at her residence with her loving family by her side. She was born on October 10, 1938, in Alton, Illinois the daughter of Ida (Zini) Fin of Alton and the late Louis Fin. She married Harold "Fuzz" Barton on May 5, 1962, in Alton and he survives. Other survivors include one daughter and son in law: Stephanie and Terry Griffin of Rockvale, Tennessee, one son and daughter in law: Matthew and Barbara Barton of Alton, six grandchildren: Taralei, Marissa, Steven, Ethan, Tysen, Cayden, one sister: Teresa Fin of Chicago, two brothers and sisters in law: Louie and Jane Fin of Aton, Joe and Fran Fin of Baton Rouge, Louisiana, one brother in law and sister in law: Don and Vera Barton, three sisters in law and two brothers in law: Lela Ellis, Marilyn and Jimmy Gerbert, Marcia and David Feldman, and several nieces, nephews, and other extended family and friends.
She formerly was employed at Shell and Olin as a secretary. She was a volunteer at Our Lady of the Snows Shrine where she was involved with Radio Information Service (RIS). She read books and the TV Guide for over 30 years to the visually impaired. She learned Braille so she could transcribe books for the visually impaired as well. In her younger years she worked in the cafeteria at St. Joseph's Hospital in Alton. She formerly was a CCD teacher at St. Bernard's Catholic Church in Wood River and girl scout leader. She was an avid cake maker and artist. Every year she and her husband would vacation at Sanibel Island where she was a professional seashell finder. She loved watching her grandkids play sports. She was a member of St. Cecilia Catholic Church in Glen Carbon where she was a member of the Renew Group.
In celebration of her life, visitation will be from 4pm to 8pm on Tuesday, March 4, 2013 at St. Cecilia Catholic Church, 155 North Main Street in Glen Carbon with a prayer service at 3:30pm. A Mass of Christian Burial will be held at 11am on Wednesday, March 5, 2014, at the church. Father Dan Bergbower and Father Steve Pohlman will be the celebrants. Entombment will follow at Valhalla Memorial Park in Godfrey.
Memorials are suggested to the National Multiple Sclerosis Society or to BJC Hospice of Alton.
Online guestbook available at www.pitchfordfuneralhome.com.
Pitchford Funeral Home in Wood River is in charge of arrangements.