Emery M. "Doc" Edwards Sr
Godfrey | Wednesday, August 13 2014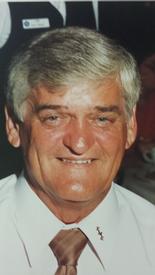 Emery M. "Doc" Edwards Sr. , 80, died at 12:20 p.m. Wednesday, August 13, 2014 at Alton Rehabilitation and Nursing. Born December 8, 1933 in Brownington, MO, he was the son of Clyde and Virginia (Diesel) Edwards. He served in the U.S. Army and was a member of the VFW Post 1308. Mr. Edwards had worked for Philco Corp in Philadelphia, PA, McDonald Douglas in St. Louis, and retired from Emerson Electric in St. Louis, MO. On May 24, 1958 in Alton, he married Joan Crawford. She survives.
Also surviving is a son, E. Michael Edwards Jr. (Karen) of Godfrey, a daughter, Sabrina Cunningham (Charles) of Godfrey, five grandchildren, Bret, Kylie, and Nicholas Edwards, Kelsey and Jake Cunningham, and many nieces and nephews. He was preceded in death by three sisters, Shirley King, Betty Rudy, and Carolyn Whiteside.
Visitation will be from 4:00-8:00 p.m. Monday, August 18, 2014 at Gent Funeral Home in Alton followed by funeral services at 10:00 a.m. Tuesday, August 19, 2014 with full military honors by the VFW Post 1308. Burial will be private. Patrick Thatcher will officiate.
Memorials may be made to the Mission American Gratitude.
Online guestbook and information may be found at www.gentfuneralhome.com