Edward K. Du Vivier
Godfrey | Wednesday, May 21 2014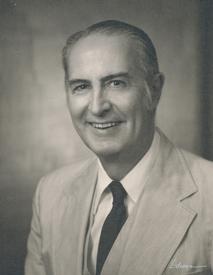 Doctor Edward K. Du Vivier of Godfrey died on May 21, 2014 at Provision Living at Godfrey. He was born in New York City on January 27, 1919, the 4th son of Joseph and Eleanor (Keyes) Du Vivier. He was raised in France to the age of 18 where his American father practiced law in Paris.
He went to Avon, then Yale University and Cornell Medical School in New York City, graduating in 1945. He was in the Medical Corps of the Army from 1942 to 1948. He completed his residencies in Pediatrics at New York Hospital in 1950, and practiced Pediatrics with Drs. Pierce and Humphrey in Alton, IL to November 1988.
During his practice "Dr. Ned" became Chief of Staff and now Emeritus of St. Joseph, St. Anthony and Alton Memorial Hospitals. He represented the Madison County Medical Society as a delegate to the Meetings of the Illinois State medical Society for 35 years. He was on the Regional Medical Peer Review Board in Quincy, President of the Downstate Pediatric Society, and President of the Madison County Medical Society.
After retirement at age 70, he served for 3 years as Madison County Representative to the Silver Haired Congress in Washington, DC. He was on the Board of the Western Illinois Area Agency on Aging in Belleville for 8 years, and on the Board of Alton Senior Services Plus for 8 years. He volunteered at the Lewis and Clark Interpretive Center in Hartford, Hayner Public Library, AARP and Leisure Friends.
He is survived by his wife, the former Marjorie Jeanne Attebery, whom he married in 1947, and 7 children: Joseph A. DuVivier & Toni Rizzo, Ft. Bragg, CA;
Charles G. & Kathryn DuVivier, Encinitas, CA; Edward F. & Mateboho (Matty) DuVivier, Maseru, Lesotho; Katharine K. (KK) DuVivier & Lance Wright, Denver, CO; David O. DuVivier, Kehl am Rhein, Germany; Louise D. & William Alsing, Godfrey, IL; Eleanor D. & Michael Dunn, Oakland, CA and 8 grandchildren: Edward & Hea Jeong DuVivier, Glendale, CA; Dave Du Vivier, Encinitas, CA; Una Kate DuVivier-McDermott, Maynooth, Co. Kildare, Ireland; Joseph Pitso DuVivier, Maseru, Lesotho; Alice DuVivier and Michael Rhodes, Boulder, CO; Emmett Perl, Santa Barbara, CA; Zachary and Alex Dunn, Oakland, CA.
After cremation, a private family memorial service will be held. In lieu of flowers, memorials may be given to the Episcopal Parish of Alton, 10 E. 3rd St. Alton, 62002 or Senior Services Plus, 2603 N. Rogers, Alton, IL 62002.
Elias, Kallal and Schaaf Funeral Home in Godfrey is in charge of arrangements.
Online condolences and guest book may be found at www.eliaskallalandschaaf.com