Boyce Eugene Mateer
Alton | Tuesday, March 18 2014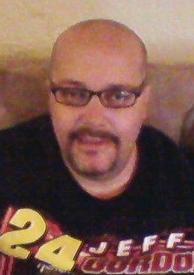 Gene Mateer—Alton
Boyce Eugene Mateer, 41, passed away Tuesday, March 18, 2014 at Alton Memorial Hospital.
Born August 20, 1972 in Chicago, Ill., he was the son of Kenneth Boyce Mateer and Beulah (Kistmiller) Pryor.
He is survived by his mother of Alton; a son, Dalton Runge of Taylorville, Ill.; 2 sisters, Kimberly (Dale) Mercer of Palmyra, Ill. and Leigh Anne Powell, who was Gene's caretaker, and her significant other, Marcus Clemons, Sr. of Alton; 2 brothers, Kevin Mateer of Carlinville and Shawn (Alicia) Huff of Wood River; nieces and nephews, Bryanna and Alexandria Costello, Shayne and Timothy Dugger, and Devon Huff and his wife, Laura Wilfong of Alton.
A memorial service will be held at a later date.
Memorials may be given to the family, in care of his mother.
Professional services entrusted to Paynic Home for Fuenrals, with online guestbook available at www.paynicfh.com.